Lady Panthers begin region play with win over Northgate
Starr's Mill Lady Panthers celebrated more than their seven seniors on Senior Night this past Tuesday, defeating region opponent Northgate 5-2. 
"[The seniors] all just fit in, work hard, enjoy what they're doing, and have fun playing," head coach John Bowen said. "When you can do that, all of the other things kind of take care of themselves."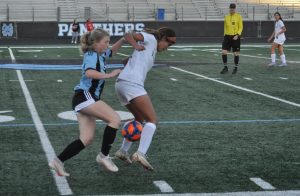 Sophomore Mia Hargrove tallied a hat trick to lead the Lady Panthers in the win. Sophomore Riley Munoz recorded a goal and an assist. Junior Lauren Gutshall added a goal. Senior Carrie Consolino also had an assist in the match. 
Northgate goal scorers were Kailyn Borngesser and Selma Bormann.
"We've really improved on our connection, and just moving the ball through the defense and attacking," junior Lauren Gutshall said.
Northgate jumped into the lead seven minutes into the match with a goal by Borngesser.  Two minutes later, Hargrove scored her first of three goals on the night to tie the game. A goal but Gutshall in the 16th minute gave the Lady Panthers a 2-1 at halftime.
"You have to make sure you're looking out to pass, opening up, and moving off the ball," senior goalie Alexis Chapman said. 
In the second half, Northgate gained and controlled possession early, until Hargrove scored again, increasing the Starr's Mill lead to 3-1.The Vikings narrowed the lead in the 11th minute when Bormann scored.
The Vikings had more chances to score, but only pulled out two shots. They looked to tie the game at three, but a goal was disallowed after an offsides call.
Hargrove and Munoz added two more goals, sealing the win, 5-2.
"It was our first region game," Bowen said. "We told them before the game, no excuses, whatever it takes, we need three points."
The Lady Panthers play another region match tomorrow night when they travel to play Whitewater at 6 p.m. The team does not play at home again until March 25 on Teacher Appreciation Night.