Panther small ball ignites victory over Upson Lee
After a 4-1 start to the season and back-to-back wins, the JV Panthers continued the strong start to the season with a win over Upson Lee last Thursday. Riding their momentum from the previous two games, the Panthers' early dominance propelled them to a 7-5 victory.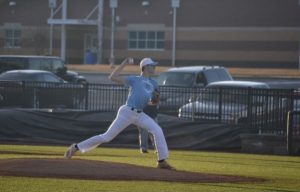 Sophomore Andrew Durham pitched a no-hitter for three innings, before allowing a double in the fouth. Durham recorded eight strikeouts and one hit in four innings.
'"Getting in the right headspace, locking in, and not overthinking it," sophomore Andrew Durham said. "We played really good. I think we started off really hot." 
The top performer in the win came at the hands of Durham, who tallied two singles, three RBIs, and reached base via a walk. Another notable performance was from sophomore Christian Mattingly who recorded three singles, an RBI, and a run. 
The Panthers struck early in the victory, scoring their first run off of an Andrew Durham single.
Early success hitting the ball set in place their impressive victory. 
Starr's Mill relied on small ball for their early runs, with eight straight runners on base in the second inning, along with three total steals across the first two innings. The Panthers were able to string their hits together in the second, scoring six runs in the inning. 
The Panthers went scoreless through the next five innings. The Knights, however, started to come alive, scoring two runs in the fourth, followed by a run in fifth, and two additional runs in the sixth. 
"When you throw strikes, you get people out," coach Walt Ellison said. "We got to work on taking a good approach at the plate."
Panther pitching held off Upson Lee in the seventh, securing the win, 7-5. 
Starr's Mill has since defeated both McIntosh and Northgate, extending their win streak five games.