Starr's Mill beats Northgate to begin region play
Region play started Tuesday night as Starr's Mill celebrated nine seniors with a 3-1 win over Northgate.
"These are statement games for us," head coach Aaron Buck said.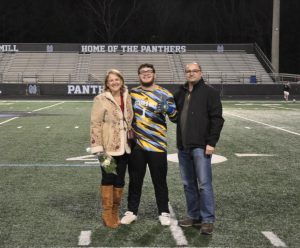 Seniors Ricardo Leacock and Braden Brownell, and junior Camilo Velez each scored a goal in the victory. Matt Pickford was the lone goal scorer for Northgate.
"This is our first game with a healthy squad and we are already looking a lot better," Brownell said.
"They did a great job tonight," Buck said.
The first few minutes of the game were action packed. Starr's Mill got on the board in the first two minutes with a goal by Leacock. Northgate responded with a goal one minute later. 
"[Seniors] play a key role by giving spirit to the team and helping the younger players feel more comfortable," Leacock said.
Starr's Mill took the lead with a goal by Senior Braden Brownell in the 37th minute. 
Junior Camilo Velez added to the Panther lead in the 57th minute, sealing the 3-1 win.
The team traveled to Whitewater Friday night and lost 2-1 in penalty kicks (4-2). The Panthers do not play at home again until March 25 on Teacher Appreciation Night.