Lady Panthers fall in early season test to top-ranked Creekview
Last Thursday the Starr's Mill girls lacrosse team hosted Creekview High School in their second game of the season. According to MaxPreps, Creekview is the top team in the state and the No. 3 team in the nation. They showed they deserve that high ranking as they dismantled the Starr's Mill team 17-3.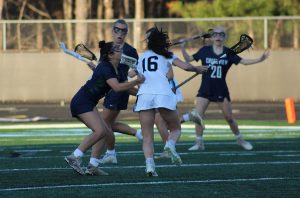 This is the first time a team has scored more than ten goals against the Lady Panthers since May 11, 2016.
Seniors Emma Grace Hepler and Hannah Leon capitalized on the offensive looks. The duo combined for all of the offensive points throughout the game. Leon struck at the 22:45 and the 4:34 marks during the first half, while Hepler struck late in the second half. 
"We struggled because it was our first tough game of the season," Hepler said. "We weren't really prepared for the speed and physicality of Creekview." 
Starr's Mill combined for 16 error turnovers while forcing eight of them. Junior Jackson McDaniel and Hepler both led the team with two caused turnovers. 
Creekview's offense was headed by a pair of seniors, Karina Van Der Walt and Maya Maldonado, who combined for seven of the team's 17 goals. 
The Panther team is no stranger to tough competition as they have consistently boasted one of the toughest out of area schedules.
"The whole reason why I schedule these games with teams like that is specifically so we can learn from them," head coach Mary Lehman said. 
Throughout the entire game the Starr's Mill offense had multiple looks to put the ball in the back of the net but could not capitalize on their offensive possessions.
Starr's Mill returns to action this Friday at home against Mill Creek from Hoschton, Georgia, and the following day will travel to West Forsyth in Cumming, Georgia.