Calm before the chaos
Stenhouse Jr. logs fastest lap in Cup Series practice
Ricky Stenhouse Jr., driver of the No. 47 Chevy for Kroger/SweetLeaf for JTG Daugherty racing, led Cup Series practice with a top speed of 186.16 and lap time of 29.708.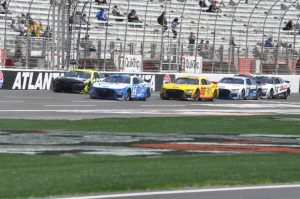 "Two-wide is comfortable," Stenhouse said. "The exit of turn 2 and entry of turn 3 is really narrow. It's going to be kind of tricky to see how that plays out…It's going to be a battle."
A pair of Joe Gibbs Racing teammates secured the next two spots. Kyle Busch finished practice in second place with a top speed of 186.391 mph and a lap time of 29.744 seconds. Christopher Bell finished his practice session in third place with a lap of 29.755 seconds at 186.322 mph.
"That practice session was 40 minutes of pure chaos," Bell said. "I found myself holding my breath several times. It's a full-blown speedway race for sure."
Fourth place finisher Harrison Burton, driver of the DEX Imaging Chevrolet for Wood Brothers Racing, claimed a fastest speed of 186.121 mph and a lap time of 29.787 seconds.
Joey Logano took fifth place in his No. 22 Shell Pennzoil Ford for Team Penske. His best lap was 29.823 seconds with a speed of 185.897 mph. 
"Runs happen quicker, bigger," Busch said. "Everything's tighter."
Last week's race winner and current points leader Chase Briscoe had a top speed of 184.333 mph and a fastest lap time of 30.076, landing him in 26th place in the only practice session ahead of Sunday's Folds of Honor QuikTrip 500.
Ryan Blaney, last year's spring race winner at Atlanta Motor Speedway, driving the No. 12 BodyArmor Ford for Team Penske, ended the session in 25th spot with a time of 30.058 seconds.
Coverage of the Folds of Honor QuikTrip 500 begins tomorrow at 3 p.m. EST on Fox.