Offensive surge propels Panthers to 10-7 victory over McIntosh
Riding the momentum from a seven-game win streak, the Panthers continued their streak on Thursday with a 10-7 win over McIntosh. 
The Panthers struggled pitching, walking 10 batters. However, the Panthers dominated offensively, scoring 10 runs in the win.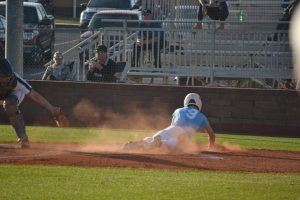 The top performance from the victory came at the hands of sophomore Charlie Clem who reached base on each of his four at-bats. He tallied three hits, which included a double, single, and triple. Another notable performance was from eighth grader Erik Lundstrom, who recorded a double and a bases loaded single to drive in two runs. 
"I was just seeing the ball a lot better," sophomore Charlie Clem said. 
The Panthers were firing on all cylinders early, going up by one in the first inning, followed by two additional runs in the second inning. The Panthers rallied behind a two-out Clem double that drove in a runner, followed by a single from freshman Ashton Davidson that drove in Clem. 
McIntosh dominated the third inning, tying the game with a three-run inning, and getting three straight Panther batters out. Starr's Mill pitching struggled in the third, walking three batters and allowing two hits. 
After allowing a run in the top of the fourth, the inning proved crucial for the Panthers, after a four-run performance from the Panther offense. The first four batters reached in the fourth, two off of singles, one walk, and one perfectly placed bunt from sophomore Avery Schwarzrock. The inning was topped off by a bases loaded single to drive in two runs, and cement a three-run lead over the Chiefs. 
Clem provided the Panthers with two additional runs in the fifth after driving in a run via a triple, and stealing home before the inning came to an end. 
"I got confidence in whoever is there, that's the way it's got to be," coach Walt Ellison said. "If it's the one hole through the nine hole it does not matter, if we have runners on second or third I have confidence we are going to put a ball in play."
The Panthers extended their lead in the sixth and seventh scoring three more runs. Panther pitching was able to fend off a Chief comeback and seal the 10-7 victory. 
The Panthers won the following game vs East Coweta 2-0, extending their winning streak to nine games.