Girls lacrosse falls in pursuit of 6th straight area championship
Last Thursday the Starr's Mill girls lacrosse team traveled to crosstown rival McIntosh High School seeking its sixth straight area championship. In a back and forth battle, the Panthers saw a different result than usual, falling to the Chiefs 9-7 and snapping their winning streak. 
"We played well overall until the last 10 minutes," senior Emma Grace Hepler said. "I thought they played a better overall game than us."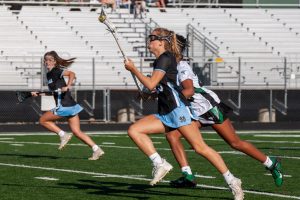 The Panthers were led by senior Hannah Leon who scored three goals. Hepler and senior Kylie Valenta each dished out two assists in the game. Sophomore Sunny McQuade and Hepler each grabbed three draw controls in the loss. 
McIntosh had multiple multi-goal scorers as sophomore Lauren Lawson led the team with three goals while senior Ryann Banks and juniors Taylor Hautala and Riley Phillips each scored twice. 
The first half was low scoring but the Panthers had seemed to have all of the momentum with a three-goal lead with 13 minutes left in the half. The Chiefs called a timeout and would come out and tie the game up in under two minutes. However, the Panthers responded with two late goals, putting them up 5-3 at the half. 
As the second half started it only took McIntosh 14 seconds to bury the ball in the back of the net. The Panthers responded but the Chiefs took complete control scoring five unanswered goals to put them ahead 9-6. Leon found the back of the net with 26.7 seconds remaining but it was not enough to stop the Chiefs from hoisting the area championship trophy at the end of the night. 
"I think we just kind of ran out of some gas," head coach Mary Lehman said. "I feel like the girls put in their best effort, I really do."
The Panthers are 8-9 overall and 6-1 in area play. They are 0-3 against teams in the National Top 25 on MaxPreps.  
Tonight the Panthers host No. 3 Hillgrove who is fresh off an overtime win against powerhouse Milton. After that the team will head into playoffs hosting their first round matchup.