Winning streak continues as Sellers, Ukleja lead Panthers to win
After winning their three-game series against McIntosh, the Panthers rode their winners' high all the way home and into the first game of the final three-game series of the season. After a three-run home run by sophomore Austin Sellers and a late-game RBI single by senior Alex Ukleja, the Panthers defeated Northside-Columbus 9-8.
"We've been working every day to get to playoffs," Sellers said. "We come out here everyday and we work hard and try to get better."
"
[Northside] didn't have but two hits and scored eight runs so there's just too many freebies."
— head coach Brent Moseley
Leading hitters for the Panthers include senior first baseman Alex Ukleja with three singles, a double, and two RBIs, and sophomore shortstop Austin Sellers with an RBI single, and a three-run home run.
Sophomore Heath Whitlock took the mound until the third inning when junior Andrew Scott took over. In the fifth inning, sophomore Jack Ryan replaced Scott for pitching duties for the rest of the game. 
"We got to throw more strikes for sure," head baseball coach Brent Moseley said. "[Northside] didn't have but two hits and scored eight runs so there's just too many freebies."
The Panthers came out strong in the first inning, scoring two runs accredited to Ukleja and Sellers. Northside quickly answered back in the second inning with two more runs scored from a walk and a single, tying up the game 2-2.
In the third inning, Sellers hit a three-run home run putting the Panthers back in the lead 5-2. With the bases loaded in the top of the fourth inning, Northside scored two runs, both due to walks. The fourth inning ended 5-4 with the Patriots trying to close the Panther lead.
After pitching changes for both teams, with Northside swapping three different pitchers in the fourth and fifth inning, the Panthers were able to increase their lead by two. With bases loaded in the bottom of the fifth, sophomore center fielder Bo Walker earned a walk, allowing sophomore catcher Ariston Veasey to score.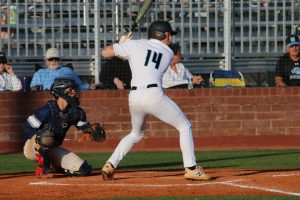 "We're just going to keep seeing more and more pitching," Ukleja said. "[We're] just practicing hard."
With the Patriots changing their pitcher for the third time and junior left fielder Sully White waiting on third base, a bobbled ball allowed White to steal home, ending the fifth inning 8-4. 
The seventh inning started out 8-6, with the Panthers in the lead. Two incredible catches by Whitlock prevented Northside from loading up their bases but it was not enough to prevent them from scoring. With two Patriots on base, a Northside hit to first base allowed his teammates to score, tying up the game 8-8.
In a tense bottom of the seventh, Starr's Mill managed to load up the bases and, after a single by Ukleja, Walker was able to score, ending the game 9-8.
"Our hitting has definitely come together," Sellers said. "All the younger kids are starting to do what they are capable of doing."
After last night's 6-5 win in Columbus, the Panthers look to end the regular season by sweeping back-to-back opponents. First pitch is set for 7 p.m. after Starr's Mill recognizes this year's seniors.