Leon's game-winning goal in OT sends Lady Panthers to Elite Eight
Last night the Starr's Mill girls lacrosse team traveled to The Wesleyan School for their second round matchup in the GHSA A-5A State Playoffs. The Panthers won in dramatic fashion as senior Hannah Leon scored the game-winner in sudden death overtime. 
"It's a collective effort and that is the only way we are going to win these games," head coach Mary Lehman said.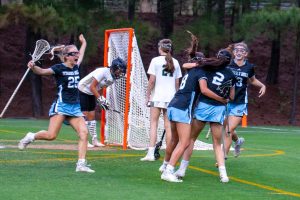 Starr's Mill was led offensively by seniors Leon and Emma Grace Hepler who tallied six goals apiece. Sophomore Sunny McQuade found her offensive footing during the game as she netted a career-high four goals and her first career hat trick. Senior and sophomore goalies Rosa Pompeo and Maggie Kluemper split time combining for 11 saves total.
The Panthers had a hot start scoring four straight goals in the first six minutes of the game. Wesleyan would make offensive strides in the first half but could not get within one of the Panthers. Hepler and Leon flexed their offensive prowess as they combined for eight of the 12 first half goals. The Panthers headed into the break up 12-9 against the Wolves. 
In the second half it took three minutes for Wesleyan to find the back of the net. Hepler responded 34 seconds later. The Panthers scored four unanswered goals stretching the lead to 16-11 with a little under 15 minutes left. With a five-goal lead and 10 minutes left the Panthers seemed to have run out of gas as the Wolves went on a five-goal run, knotting the game up at 18-18 at the end of regulation
As the overtime period began senior Kylie Valenta collected the crucial draw control in a dog fight for the ball. As the Panthers headed down toward their offensive end, Leon and Hepler would each take a shot that went wide. As time was dwindling junior Jackson McDaniel rolled around the goal circle and threw the ball to a cutting Leon as she slammed her sixth and most important goal of the night past the Wolves keeper.
"[The game was] a dog fight really," Leon said. "I think we should have controlled the ball more and we kind of lost our composure at the end but got it back." 
The second round win puts the Panthers at 10-10 on the season. The Lady Panthers will face the winner of the Pace Academy/Richmond Hill matchup in the quarterfinal game either Thursday or Friday.