Boys lacrosse team makes history
Those in attendance at Thursday's boys varsity lacrosse game saw school history when the team defeated Woodward Academy 8-2. With the win, the Panthers advanced to the state semifinals for the first time in school history.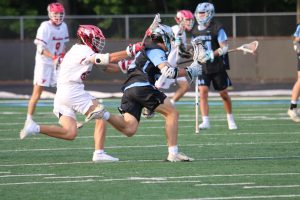 "It feels good [to get to semifinals]," head coach Jeff Schmidlkofer said. "We've knocked on that door for years. Hopefully we keep this thing running."
Starr's Mill dominated possession for the most of the game, and then ran away with the win in the fourth quarter.
Sophomores Andersen Cardoza and Charles Cochran led the scoring with three goals each. Senior Collin Smith and sophomore Taylor Ratinaud added a goal apiece.
During the first quarter, Cardoza scored twice, quickly followed by Cochran. The Panthers maintained possession for almost the entirety of the opening quarter, protecting the 3-0 lead. The second quarter saw an offensive push from the War Eagles after Smith put Starr's Mill up 4-0. Senior Ford Stratton scored twice for Woodward to cut the lead to 4-2 by halftime. 
"We put up a good lead and [Woodward] had to come press out," Cardoza said. "We were really good with our movements."
To protect the lead, Starr's Mill slowed the pace of play in the third quarter. Neither team could gain much ground until the last minute when Cochran was able to squeeze in a goal to bring the score up to 5-2. 
Starr's Mill finished the game with a fantastic offense in the last quarter, putting through three more goals on the board. Cardoza, Ratinaud and Cochran scored, ending the War Eagle season in the 8-2 victory.
"I've played all four years on the varsity team," senior Barrett Schmidlkofer said. "If in eighth grade you had told us our team would get to the final four by senior year, people would have left. It feels good to be the best."
With the win, boys lacrosse advances to the final four and into history books. They host Lovett on May 11 at 7:45 p.m. in Panther Stadium.