Four straight final fours for Lady Panthers
Last Friday the Starr's Mill girls lacrosse team traveled down to the coastal empire to take on Richmond Hill in the quarterfinals of the GHSA A-5A State Playoffs. Seniors Emma Grace Hepler and Hannah Leon put on a goal scoring clinic while leading the team to a 17-8 victory over the Wildcats.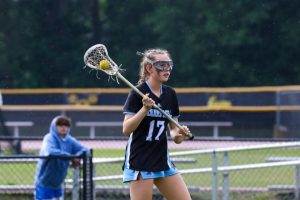 Hepler recorded seven goals on her seven shots, four assists, three draw controls, and two ground balls. Leon netted five goals, one assist, and three draw controls. Junior Jackson McDaniel also contributed one goal and one assist. Senior Rosa Pompeo and sophomore Maggie Kluemper split time in the cage each stopping three shots. 
The Panthers started a little slow allowing the Wildcats to score the first two goals of the night. Hepler and Leon did not take long to regain the lead as the two would score five unanswered goals. Together the duo tallied 12 of the team's 17 goals. Both teams would trade punches during the first half but ultimately Hepler and Leon scored all 11 first half goals as the Panthers went into the break up 11-5. 
"After having a very long bus ride down there and having poor refs we kept our composure very well to bring home the win," Hepler said. 
As the second half started the Panthers continued their dominance only allowing Richmond Hill three goals and minimal offensive looks. Other players would get in the scoring mix as senior Lauren Paget and juniors McDaniel, Ellie Simonian, Siena Kamal, and Elise Mercure each buried one goal. Hepler tallied her seventh and final goal during the half.
With the dominant win, the Lady Panthers advanced to the final four for the fourth straight season.
"We started out a little slow, but once our offense got possession of those balls then obviously it was just one shot after another, and we took care of it," head coach Mary Lehman said. 
The Panthers will look to take their momentum into their semifinal matchup this Wednesday at Panther Stadium when they host Northview at 6 p.m. These two teams met last year in the semifinals with Starr's Mill winning 12-11.