Strong defense leads to easy win
New varsity girls basketball head coach AC Atha has been emphasizing defense to begin the season. The results were evident Friday night as Starr's Mill defeated Cedar Grove 51-18.
"We definitely pride ourselves on our defensive efforts," Atha said. 'We will score most of our points off of our defensive stops."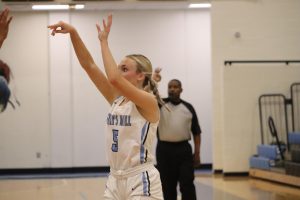 Senior McKinley Heiden and junior Brooke Godown led the team in scoring with 12 points each. Sophomore Gabby Roach and junior Tani Alofe each contributed six points off the bench.
"I would say defense plays a huge role in our games. We work on it half of our practice," Godown said. "We know that defense wins that game, so that's really all that we work on."
From the start of the game, the defensive efforts were obvious as Cedar Grove did not attempt a shot until midway through the opening quarter. Starr's Mill had plenty of chances on offense, but the shots were not falling. The Panther led 6-2 after the first quarter.
The Starr's Mill offense caught fire in the second quarter helped by three three-point shots. The defense remained strong, allowing the Panthers to stretch the lead to 27-8 at halftime.
" We went into halftime feeling like we did not come out ready to play in the first half," Atha said.  "They decided to come out with more focus." 
After the break, the Panthers continued forcing turnovers on defense. Starr's Mill held Cedar Grove scoreless the entire quarter. The offense, led Heiden's great shooting from behind the arc, pushed the lead. 
By the fourth quarter there was no real threat from Cedar Grove. Starr's Mill pulled their starters. However, the team continued to play aggressively. Starr's Mill defeated Cedar Groove 51-18. 
"We are just working out the kinks, just trying to figure out how we can be better for region [play]," Atha said.
Starr's Mill hosts McIntosh this Friday at 6 p.m. The team travels for a holiday tournament before returning to begin region play against Fayette County on January 3.