Solid teamwork results in 6-0 win
Starr's Mill girls JV soccer capitalized on solid teamwork in Monday night's 6-0 win over Whitewater.
Freshman Lauren Barch and sophomore Emily Daniel scored two goals apiece.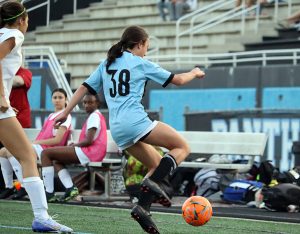 Eighth grader Avany Yeager had one assist and one goal. Eighth grader Zara Wilson had a finish. 
"In practice we worked on lots of passes, shooting, and crosses," Yeager said. 
Daniel started the scoring, putting Starr's Mill up 1-0 early in the match. The lead was then increased by Barch who scored 10 minutes into the opening half. A goal by Wilson increased the lead to 3-0 at the half.
"We have mainly been working on ball control to execute," Wilson said.
In the second half the Panthers started off with the ball, applying a lot of pressure against the Wildcats and keeping possession of the ball. 
Daniel scored the first score of the second half, moving the lead to 4-0. Yeager would add another goal before Barch ended the game with her second goal of the contest. 
Solid teamwork resulted in a 6-0 shutout win over Whitewater. 
"During the game I saw a lot of what we have been working on in practice, good passing, good ball movement and good aggression," head coach Mike Meyer said. 
Starr's Mill girls JV soccer hosts LaGrange on March 13.