At the AT&T Starr's Mill Cross Country Meet on Saturday, the Panthers came up short of the podium. The boys and girls varsity teams, both led by head coach Kelly Rock, placed seventh and tenth, respectively.
"Every time I run, I just want to make coach Rock proud," senior Diego Ramos said.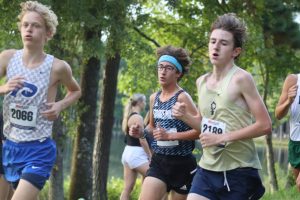 The varsity girls started the morning of competition with a 5K run that included a lap around Brown Lake at ONE Church.
"I would say [the hardest part of the race is] probably the hills," sophomore Andrea Ramos said. "They always drain me and they're just so hard for me, but it was good to just know how to run them."
Andrea led the runners from Starr's Mill, finishing 25th out of 185 runners with a time of 20 minutes, 11.30 seconds. The top runner for the event was senior Ruby Little from Marist High School who completed the race in 17 minutes, 53.70 seconds. 
"I think I did really good," Andrea said. "I was happy and I got a [personal record], so it was just such a good race, and I just love this course."
Marist High School dominated the girls varsity event earning first place with 46 points. Starr's Mill finished 10th with 238 points.
The boys team finished 7th out of 31 teams. Junior Tommy Latham of Marist High School won the race with a time of 14 minutes, 54.40 seconds. The top runner for Starr's Mill was senior Diego Ramos who finished 22nd of 242 runners with a time of 16 minutes, 29.80 seconds. 
"I kind of started out slower and got faster as the miles went on, but yeah I felt pretty good," Diego said. 
Both cross country teams travel to Carrolton this Saturday for their next meet.