Panther softball players recognized their favorite teachers earlier this week on Teacher Appreciation Night.  
"It goes to show how much they value their education, and what they learned more than just the academic features," head coach Peyton Dean said.
The players chose a teacher based on how much they like what the teacher teaches and how they are as a person and how they teach their material.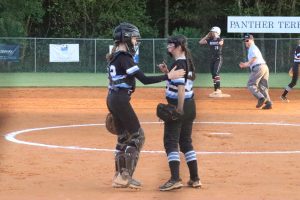 "I picked Coach Castagna because he is a really funny teacher," senior Tyanna Smith said. "I like his jokes, and when I am struggling in class he helps me all the time."
Following the festivities, Starr's Mill fell to Whitewater 20-0 in a game that lasted four innings. Despite the loss, a young Panther team is showing progress.
"The first time we played Whitewater we had double digit strikeouts, but tonight we only had one," Dean said. "Our contact percentage has increased, forcing them to play defense, showing growth with our young players as we play these older teams."
Whitewater scored in the first quickly with six runs with a two-run double and a single. In the top of the second, Whitewater hit a two-run homerun and then a two-run double and a single to increase the lead to 10-0. The Wildcats would add one more run to close out the inning.
Starr's Mill held Whitewater scoreless in the third before giving up nine runs in the top of the fourth, including another two-run homerun.
Starr's Mill had a chance for some runs in the bottom of the fourth with the bases loaded, but they grounded into a double play to end the game. Starr's Mill finished the game with five hits. 
"We have to cut down on mental errors, and get more comfortable in situations," Dean said.
Starr's Mill softball is currently 3-8 overall, 2-6 in region play. They host North Clayton on September 21.