Flag football is focused on gaining experience and learning as its sophomore season begins.
"We're just going to go out and play hard every game and not worry about the scoreboard, and just try to get better," head coach Mark Williamson said.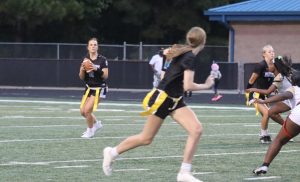 The Lady Panthers battled and lost 20-0 against Langston Hughes in a scrimmage earlier this week.
Junior quarterback Sydney Johnson led the offense by running the ball and attempting several passes. Senior rusher Jae Ardoin controlled the defense.
"I think it was a good start but we will work on it," Simmons said. "We will get better as the season goes."
The beginning of the game started slow for the defense, but they began to find their rhythm as the game went on. The Lady Panthers could run the ball well, but struggled to complete passes. 
"As a team [the experience] is going to help us bring in our second year," Williamson said.
JV flag football played Langston Hughes as well. The game ended in a tie, 0-0.
The regular season begins on October 2 at Whitewater.