The varsity Panther cross country teams are preparing for state after a successful Saturday at the GHSA 4A – Region 4 competition hosted by Starr's Mill at ONE Church. 
"The team atmosphere sets the [Starrs Mill program apart from other programs], and the way that they interact with each other within practice and outside of practice," head coach Kelly Rock said.
The boys team dominated the competition, winning first place with a total of 16 points, and their closest competition, Trinity Christian School, received 49 points. Junior Bankson Roach earned first place with a time of 16 minutes and 44.24 seconds.
"Me and Diego, my teammate, battled it out and worked hard," Roach said. "The rest of the guys did really good, and I'm really looking forward to state."
The girls team also earned first place with a point total of 28, but the competition was closer with Whitewater High School placing second with 31 points. The first-place runner was junior Taylor Tarpley of Whitewater High School with a time of 19 minutes and 14.02 seconds. Sophomore Kendra Ivaska led the Starr's Mill girls with a time of 19 minutes and 34.42 seconds, good enough for second place. 
"My goals for the state are to just have another good race," Ivaska said. "I had kind of a rough start to the season, but [my goal is to] kind of just treat it the same way I did at region."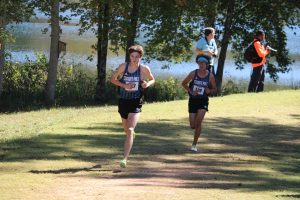 Six of the top ten runners on the girls team were from Starr's Mill. The boys secured the top four spots in their race.
"Everyone is excited because we've got state coming up, and we always do a lot of different things during state week to kind of help with that motivation," Rock said.
Meets pose an athletic challenge with all courses being different, but the mindset of runners often plays an important role in the outcome.
"Going into region, my mentality was something that I worked a lot on," Ivaska said. "Try to treat it like a practice and not get too nervous or too overwhelmed."
Starr's Mill continues to maintain a successful cross-country program that stands out among other schools.
As the teams continue even past state, it is important to look out for the girls team, made up of a majority of sophomores, as they continue to dominate.
"They have great promise," Rock said. "A lot of our girls that are our top runners are underclassmen, not seniors on the state team. We only have two seniors that are going to be graduating and the rest of the team are underclassmen."
Both teams travel to Carrollton on November 5 for the AAAA State Championship.