Starr's Mill started their wrestling season with an individual scramble at McIntosh last weekend. Everyone on the team won individual accolades by placing in different spots. This was not necessarily a team competition, but more of an individual one to begin the season. 
"We have a lot of new guys who don't have the mat experience," head coach John Steiner said. "We have to get these underclassmen to not try and overdo these things they are taught and just go out and wrestle."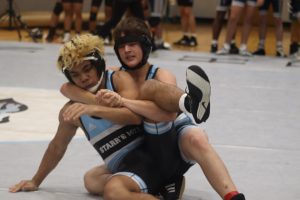 Starr's Mill saw a lot of growth from some of their underclassmen, with many placing on the podium. Sophomore David Taylor placed 3rd in weight class 150 and sophomore Souren Naradikian placed 1st in weight class 175. 
"I think we did good overall. We had a lot of first year kids do really well and learn a lot," Taylor said. " It's definitely a learning experience being the first tournament of the season, and just figuring out what the rest of the season is going to be like."
Senior Adeline Harper, the lone female on the team, placed 6th out of six competitors. Three of her matches ended due to injury default.
Upperclassmen have been helping the underclassmen with learning how to take their skills and implement it onto the mat on meet day.
"We have some really good upperclassmen coming back this year that can take on the role of a leader, and show them the ropes and how things work in the wrestling room," Steiner said. "They also need to learn how to take care of themselves and how to get ready for a match and all the little things we do that new wrestlers don't understand yet."
The team's next meet is tonight against East Coweta at East Coweta High school. Competition begins at 5:30 p.m.