Bert Groover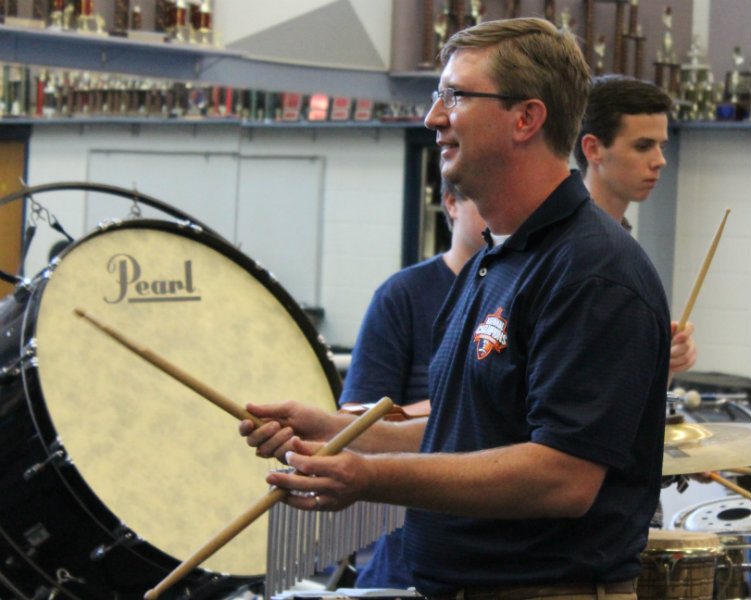 "The teachers are there to help make you better. They aren't always going to say great job but they are mostly there to help you correct what you have gotten wrong."
Background
Grew up in Peachtree City, Georgia

Graduated from Sandy Creek High School

Taught at Harris County High School, Russell County High School, and American Fork High School as the band director

Instructed the percussion class at Starr's Mill High School for three years before becoming the assistant band director
Education
Undergraduate degree in music education and music performance from Columbus State University.
Responsibilities
Assist band director Scott King with Starr's Mill's Panther Pride Marching Band and Jazz band

Teach beginning guitar and percussion class

Conduct the Symphonic Band

Instruct the seventh grade beginning band class at Rising Starr Middle School

Monitor a study skills class
The students of Starr's Mill High School are proud to welcome back percussion teacher Bert Groover as their new assistant band director for the Panther Pride band. "I will have the opportunity to assist the students everyday and help their music careers," Groover said.
Groover's decision to become a band teacher was influenced by his assistant band director from his high school, Curt Sanders. Sanders's class "was always fun because of his positivity and ability to listen to someone on a personal level," Groover said.
Groover uses Sanders's methods of teaching to connect with his students and allow them to fully embrace their musical abilities.  Groover plans on passing his love of music to many generations to come.  "When you are given something like music, I feel that it is a part of who you are, and it is very important to give back and pass it on to the next generations," Groover said.  
Groover wants to continue the works of the previous assistant band director Chris Johns.  Since he will be teaching many of the same classes Johns taught in his three years at the Mill, Groover plans on continuing the students on the same path Johns started.  "I think Mr. Johns was doing an excellent job with the band and I would like to get where the band was when [he] left off last year," Groover said.