Assistant Principal Deb Troutman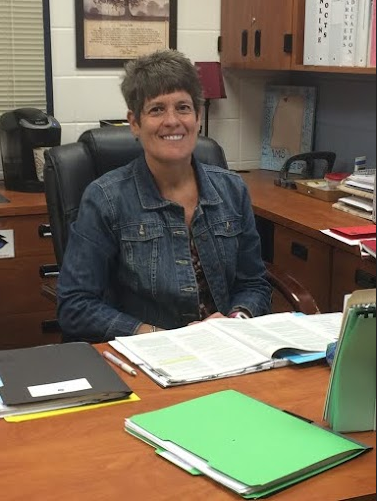 "Everyone can learn in different areas. It is our responsibility as an educational system to provide the education in order for every student to be successful."
Background
From Harrisburg, Pennsylvania

Attended East Juniata High School
Education
Bachelor's degree in elementary early childhood from Shippensburg University

Master's degree in middle school with emphasis on math from University of West Georgia

Master's degree in administration from University of Mississippi
Responsibilities
Assessment coordinator

Government Honor's Program

Lockers and obligations
Starr's Mill welcomes new assistant principal, Deb Troutman. This is her fourth year as an administrator. From 2012-2015, she served as an administrator for three years at Lewisburg Middle School in Mississippi.
Troutman lived in Georgia from 1990-2005 and taught at J.C. Booth and Flat Rock middle schools as an 8th grade math teacher. Throughout her career, she has taught elementary school for four years, middle school for 18 years and high school for five years.
Troutman returns to Fayette County this year and looks forward to using her previous experience in teaching and administration to help continue Starr's Mill's success.
"I believe every student is a unique individual with their own set of talents and abilities.  It is my desire, as an educator, to assist each student to reach their fullest potential emotionally, intellectually and socially," Troutman said.