Economics Club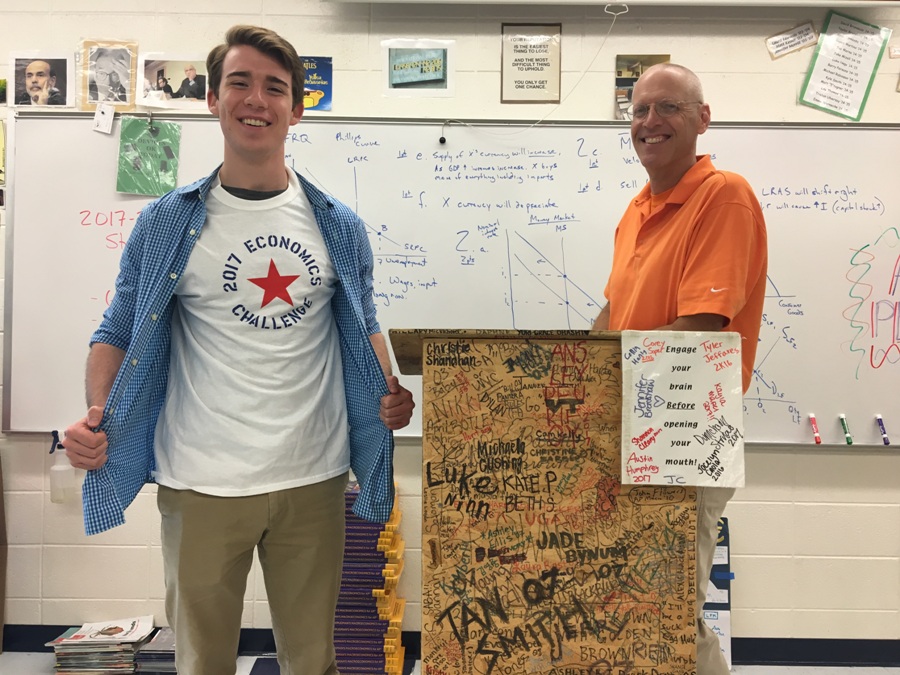 Purpose
To engage in discussion and knowledge of current events

To prepare for the Economics Challenge
Details
Meets before school two days a month in economics teacher Mark Decourcy's room

Officers: seniors Ethan Roland, Russell Marcum, and Ansley Peurifoy

All students are welcome to join
Sponsor
Mark Decourcy, economics teacher at the Mill, became the sponsor of the Economics Club this year after one of his students came to him with the idea of starting it. The student had an interest in the Econ Challenge and wanted to get a group together to begin studying for it.
Roland, Marcum, and Peurifoy are the directors this year. Roland led the group through study sessions for the Econ Challenge and Marcum led current events with the group while they drank coffee in the mornings. Meanwhile, Peurifoy handled social media.
The Econ Challenge is made up of two divisions: De ricardo, similar to college prep classes, and Adam Smith, similar to advanced placement and international baccalaureate. There are teams of four in each division and each team takes three tests. The top scores from each team are then added to make up their composite scores. The top two teams move on to the quiz bowl round. Although the Starr's Mill team did not place at this year's challenge, Decourcy plans to attend in years to come.
"Economics is life. It is a universally applicable discipline to everything," Decourcy said. "I think that this is single-handedly the most important class that you will ever have besides learning to read and write."
Decourcy is excited to carry on the traditions of the club next year and would like more people to join next year. "This was the first year so I liked the fact that these guys took charge and they actually had fun with it," Decourcy said.