Substitute teacher brings history alive with pre-Veterans Day lesson
When World History and AP Euro teacher Rebecca Rickeard's students found out their teacher was going to be out the day before Veterans Day, they expected a run-of-the-mill substitute. What they got was Army veteran Michael Stacey with a PowerPoint presentation, some artifacts, and a lot of stories from the time he spent serving in the U.S.-occupied sector of Berlin during the Cold War.
Stacey served during the tail end of the 45-year-long Cold War that began after World War II when the U.S. and European allies were  involved in political hostilities with the Soviet-bloc nations.
"Europe, specifically Germany, was separated into a democratic west and a communist east," Stacey told the students. The Berlin Wall was a product of these tense times.  "The wall was sometimes built directly through neighborhoods resulting in the separation of friends and families," Stacey said.
Stacey said that it was a different world during the Cold War era because  many Americans feared that there would  "not be a tomorrow" because of the threat of a Soviet nuclear attack.
He ended up in Berlin by choice, Stacey said, choosing to go to Berlin instead of a base in California.  He was able to see the communist eastern side of Germany.  "We [the U.S. soldiers] could almost feel the oppression in the air when we went to the east, and almost every time we left with a headache," Stacey said. "I can't even think of an equivalent in this day and age to the level of oppression we felt whenever we went ."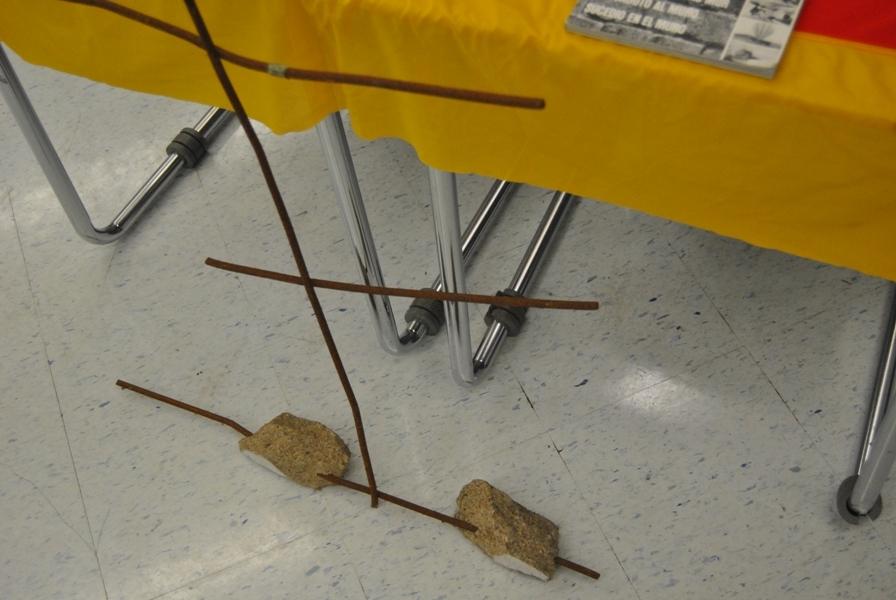 Stacey shared another memory.  "One time, my wife and I went to eat in an eastern German restaurant, and it was taking about 45 minutes to get our food, which was surprisingly long," Stacey said. "We looked across the restaurant and we saw that there were some Soviet soldiers observing the people in the restaurant.  This caused the German customers and servers to be deathly afraid and quiet. Once the soldiers left, everyone started to talk again, and I ended up getting my food in the fastest time ever."
He also told students about his experiences just days before the Berlin Wall was torn down on Nov. 9, 1989.  "It's shocking to know that if I would have stood up on the wall to look at the eastern side 25 years ago on Nov. 8, I would have been shot by Russian soldiers,"  Stacey said.
Stacey said he is glad that he decided to serve in Berlin because he was a witness of to history. "When I found out the wall was being torn down, I felt a huge release of feelings of uncertainty  that I had for the eastern Germans," Stacey said. "That was when I realized that all the sacrifice was worth it."
Rickeard said she chose Stacey as her substitute because her students really liked him the last time he covered her classes and because she knew he had first-hand knowledge of some critical moments in world history.
Stacey said he chose this specific lesson because he said he was trying to teach a valuable lesson about sacrifice during the Cold War in recognition of Veterans Day.
"If you ever get the chance, make sure you thank a Cold War veteran because they saw a lot," Stacey said to the students.