Girls chase boys chase girls
Has the technology revolution changed the teenage dating scene?
"I don't think girls should ask out guys," sophomore Genie Horne said. "I feel like there are certain standards." Horne still believes in the traditional roles of dating even though it's the 21st century.
Her friend, sophomore Allison Kennedy, on the other hand, disagrees. "If a girl is confident enough to ask the guy they like out, then why not? It does not always have to be the guy that asks," she said to Horne over lunch one day. She argued that dating has changed with the times, and gender roles are no longer as rigid as they once were.
However, both girls agreed on one thing– neither of them would have the guts to ask out a guy, so while today's pop culture suggests the teen dating world has changed in 2015, reality begs to differ.
While some students' ideas have evolved on who does the asking, they all had the same ideas about the purpose and function of flirting and where to go on dates. Technology is another aspect that affects dating with its changing terminology and new methods of courting.
One question still exists.  What's the point of dating in high school. Some students take a more serious approach to dating, and junior Ellie Hagen is one of them. "Dating is to find your future spouse," she said. "You can start early in high school if you want, but I don't date, so I haven't started looking yet."
Other students argue that dating is to have fun and gain experiences. "I think dating is kind of unnecessary," junior Gunita Rahman said, "but it's for practice. People typically find who they want to marry in college, and you don't want to be taken advantage of."
"
If a girl is confident enough to ask the guy they like out, then why not? It doesn't always have to be the guy that asks.
— Allison Kennedy
Many students acknowledge that dating in high school is nothing serious.  "Guys are pretty oblivious to the signs of a girl liking them," sophomore Chris Hollingsworth said. "I'm a prime example."
Flirting is the bridge to obtaining a boyfriend or girlfriend, but it's difficult to distinguish "talking" and just talking.
"I usually hear it from a friend if a girl likes me," Hollingsworth said, "or we've been talking long enough for her to tell me." Sophomore Grayson Valenta also said that he only knows a girl likes him if she explicitly tells him, but both guys have methods to show they're flirting.
"I try to act sweet and make them laugh,"  Valenta said. Girls have been known to twirl hair, bat eyelashes, and giggle, and guys still watch for those signs.
"Some girls flirt by teasing the guy and playing hard to get," junior Victoria Alvarez said, "or by laughing a lot to make him feel like he's funny." Whether it's over text message or face-to-face, girls tend to be on the receiving end of the flirting game.
Although dating is a major part of the high school experience, students have other priorities as well. "School work always comes first," Hollingsworth said. Horne and Kennedy agree, saying that they make time for their significant others, but they don't let it interfere with their academics or friendships.
Some rules regarding dating etiquette have remained the same. "I try not to date my close friends I've had for years, but I always talk to a girl for a couple of weeks before making anything official," Hollingsworth said.
Both Horne and Kennedy said that a typical high school relationship lasts around three months. "I think there are some who have longer relationships," Horne said, "but there are flings as well."
Junior Alexis Halm has been dating her boyfriend for more than a year. "Having a long-term relationship in high school is helpful because you know you'll have someone to help you through the rough times," she said. Whether it's daily struggles or a larger issue, the couple becomes more comfortable with one another and can support each other in and out of school.
But all relationships have one thing in common: they start with a first date, and most students agree that their ideal date doesn't involve any outlandish plans. "I think it's nice to just spend time with your boyfriend anywhere," junior Regan Romuno said.
Horne said that going on a golf cart ride on the paths, walking around one of the lakes or watching a movie is always nice. Teens still focus on the classic date ideas: dinner, movies and, for some, study sessions.
Prom always offers teens a reason to start a relationship or to continue with one. "Promposals" begin in late January and continue throughout the months leading to prom. From candles to cupcakes, students use all kinds of methods to pop the prom question. Prom was held at the Opera in Atlanta on Saturday, May 9. The Prowler is accepting prom photos sent to [email protected].
Then, of course, there's the idea of dating.  Junior Shannon Mudrinich fantasized about her perfect date. "I would like to go to the Fox Theater, or a little trip to Atlanta. I like to be wined and dined," she said. Mudrinich seems to be in the minority, though, as most high school dates occur against the backdrop of The Avenue or the movie theater.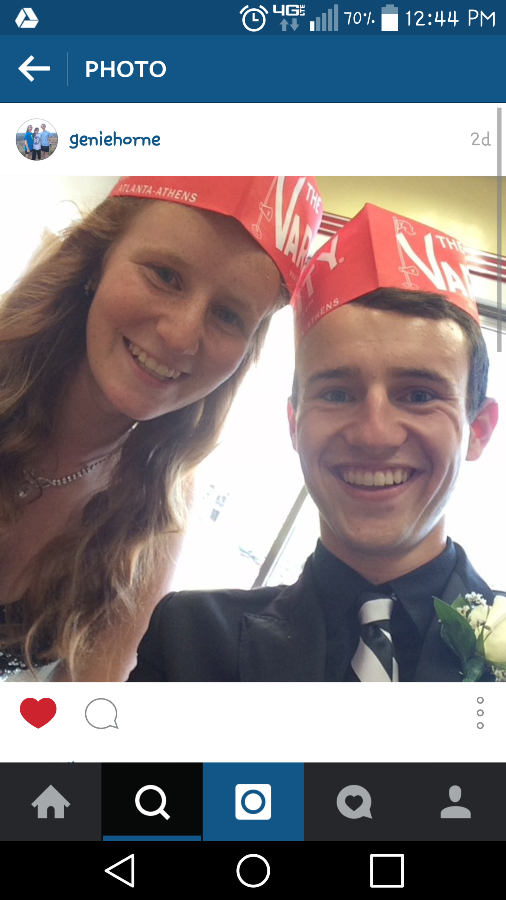 While the older generation may not know the differences between "hanging out" and "dating," students do.  "I feel like whenever people see a guy and a girl together, they're going to assume they're dating even if they're not," Kennedy said.
"If you're hanging out, you're just friends. If you're on a date, he's romancing you," Mudrinich said. When students are in groups, it's understood that it isn't a date. It's hard to "romance" a girl with her clique surrounding her. But sometimes it isn't as clear cut.
"I think you know [if it's a date], usually," Romuno said. "Unless at the end of the date they tell you they really don't want to date you because sometimes that will happen."  That hazy faze between being "official" and just being friends hasn't become any easier for current daters.
And this poses another question. How does a couple become "official?" This answer is a bit more definite. "It's official when both people are committed to each other — just each other. When they don't really have affection for anyone else," Rahman said. "Then they make it official by asking the other person outright."
Students believe that texting isn't the way to become official. "If you say stuff over text, you don't say it in person, so it's impersonal," Kennedy said. However, a lot of students seem more confident behind a screen, and this has become a problem for teens who date. The new-found confidence has translated into break-up texts and calls from unhappy lovers.
Technology isn't always a hindrance though. Horne and Kennedy said that technology is a great way to make plans or keep in touch when the couple can't always be together. "I think it helps if you use texting after you've already talked in person. Don't say I love you or anything over text," Horne said.
Social media is also an outlet to check in with a boyfriend or girlfriend. "Technology is a good way to talk to whoever you're dating when talking in person isn't possible," Valenta said.
Freshman Quynh Phan thinks social media plays a more important role in relationships. "The relationship is official when it's on Facebook or other social media," she said.  Instagram, Twitter and Facebook are all ways for a couple to show the world that they're in a relationship whether it's a status update or a picture of the sweethearts.
New terminology in dating has evolved as rapidly as the new technology. A term to distinguish the gray line between just friends and a little bit more seeped its way into gossip. Students have given the word "talking" a double meaning about which guys and girls are on the verge of dating. "Talking" could simply mean conversing with a peer, but it rarely means this when heard through the grapevine. Modern-day "talking" has become the prequel to dating, a definition of that unclear area before a couple truly becomes official.
Have the words "boyfriend" or "girlfriend" become taboo along with other outdated relics like mysterious turntables and payphones? Here is another instance where the dating scene hasn't changed. While words like "courting," "beau," and "suitors" have fallen out of style, and "going steady" is vintage 1950s, students still use universal terms, like boyfriend/ girlfriend or dating. Otherwise, dating terms seem to change with the fads.
For the most part, high school relationships haven't changed much in past decades. The addition of technology like constant texting and social media altered the rules of the game, but flirting and date locations have stood the test of time.