Practice makes perfect at Joffrey, Miami City Ballet summer programs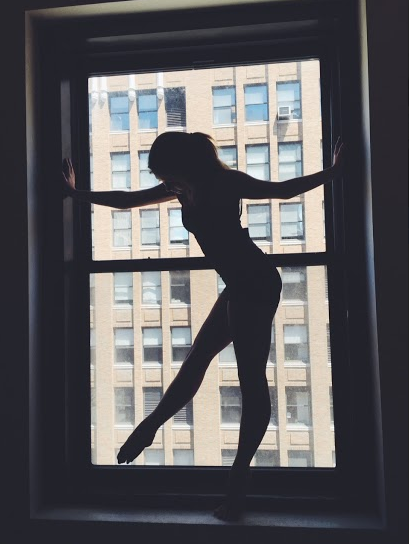 As junior Kayla Mapel boarded a plane for New York, thoughts of excitement and nervousness  raced through her mind for the weeks to come. "It was my first time on an airplane," Mapel said.
Mapel had been accepted into the Joffrey School of Ballet's Jazz Intensive five-week program after auditioning in Atlanta in mid-January. The program began in late July. Mapel decided to go to improve her jazz technique and become better, well-trained, dancer.
Each day, Mapel rode the subway to a Joffrey-owned studio to take jazz, pilates, contemporary, ballet, street jazz, theater, tap, pointe and improv classes.  "I was so excited to be there," Mapel said.   
While Mapel boarded a plane, senior Christina Hubeli made a similar journey by car in late July after auditioning she also auditioned in January. She drove with her parents and friend, Abby Caldwell, a senior at East Coweta High School, for nine hours to Miami. Hubeli and her friend both attended the Miami City Ballet's summer program.
Each day they went to Miami City Ballet's studios to take ballet, Pointe, pas de deux,variations, yoga, Pilates, stretch, floor barre, repertory and contemporary classes. "The day we arrived, I felt excited and nervous," Hubeli said.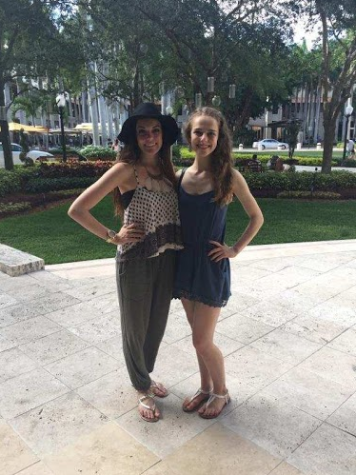 Hubeli said the MCB summer program  "taught the importance of combining both artistic and athletic abilities in order to strive towards an unattainable perfection."
Mapel also learned more about dance during her time in New York. "It made me realize why I love dance so much. It gives me the ability to show emotions and share a story without saying anything at all," she said.
On the night before her first day, Mapel found a distractor from her nerves right outside her window. She stayed in Upper East Side before beginning the program, and when she first took in her 23rd story view from her hotel room, she could only gaze in awe at the skyline. "I was right across from the Empire State Building," Mapel said. "It was absolutely breathtaking."
The Joffrey dorms were also in the Upper East Side, but getting to class was a complex, multi-step process. While in New York City, she had to take the subway every day. "I had to wake up around 7 a.m. every day in order to have enough time to go get Starbucks for breakfast and catch the subway to get to class on time," Mapel said.
Mapel and several new friends she had made arrived late to class only once. "When we were coming back from Wendy's after lunch, we got lost and walked two blocks around Madison Square Garden in the pouring rain," Mapel said.
Even though she was late once, she wasn't able to seamlessly navigate the New York streets all the time. "I actually got lost a couple times and had to ask for directions, which you're never supposed to do," Mapel said. "I ended up asking a police officer on a horse." Throughout her stay Mapel learned to manage direction and learned to ins and outs of the subway "a little bit."
Although Hubeli didn't have as much as trouble with transportation, she still had to roll out of the Miami University's dorm beds early in the morning. She got ready for the day and hopped on the school busses at 8 a.m. for a 45 minute ride to MCB's studios.
Hubeli and Mapel agreed that during the classes they had to give their all. "It was hard, but fun," Mapel said.
Hubeli said the program had many activities planned daily. Each day she took a two-hour ballet class followed by an hour of either Pointe, pas de deux or variations class. Afterwards, she had an hour break for lunch and then took yoga, Pilates, stretch, floor barre or repertory classes. "And after that class we had an hour and a half of contemporary," she said.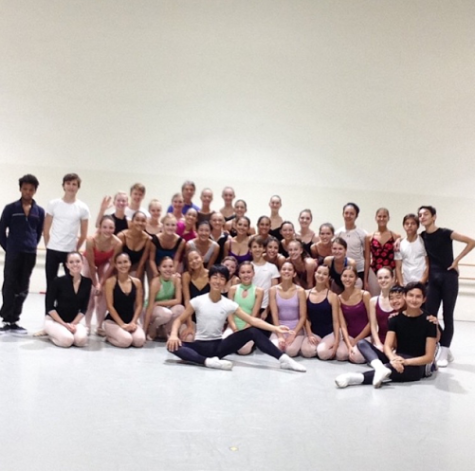 After a long day of intense dance practice, Hubeli said that "it was nice that we could explore Miami after. The studio was only two blocks from the beach."
Back in New York, Mapel danced at Pearl Studios, a studio owned directly by Joffrey, since the school itself does not have a centralized campus. It's located in the heart of the city, near Madison Square Garden. Following each class she wrote down every correction made by every teacher into a journal. "Critiques like these don't come by everyday," she said. "That's why I chose to write them down, because they're important."
While Hubeli spent her time at the beach, Mapel explored New York each evening after seven hours of dance by going sightseeing with her friends. She went to see the Empire State Building, the Rockefeller Center and the Metropolitan Museum of Art. "I got to see Van Gogh in person, which was just mindblowing," Mapel said.
But Mapel couldn't resist the lights of the bustling Time Square. "My absolute favorite place to visit was Times Square," she said. "My new friends and I must have gone a good 10 times.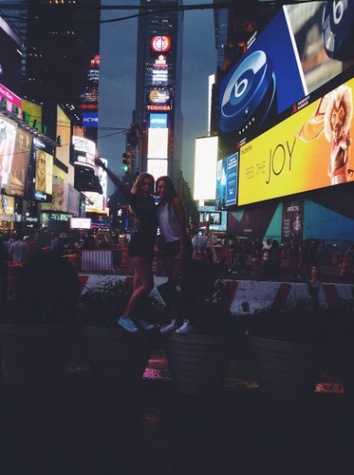 When Mapel first arrived to New York City she felt that "the energy was inspiring." She said it made her realize that "the Bubble" won't matter in a couple of years. "New York opened up my mind and gave me a new perspective on life," Mapel said.
Joffrey invited Mapel to dance full-time as a jazz trainee because they saw great potential in her as a dancer. She would receive full-time dance instruction while living in New York and taking her normal high school classes. "When I was invited, I felt completely flattered," she said.
Accepting the offer  "would be a great thing to do because it makes it a little bit easier to get into the Joffrey Company when you're older," Mapel said.  She had to turn down the opportunity for this year, but she plans on participating in the program next year.  
Hubeli said that she loves Miami City Ballet and would like to attend year round. "But since it is my senior year, it just wasn't realistic," she said, "so I didn't audition."
Hubeli did get accepted into the University of North Carolina School of the Arts year-round high school dance program, but she didn't want to make the move her senior year. Hubeli is beginning to apply to colleges and plans to attend a dance studio near the campus of the college she selects.
Hubeli said she does not plan to pursue dance professionally, but she does plan on continuing ballet through college. "I could not imagine a life without dance," Hubeli said.
Mapel and Hubeli currently dance with the Georgia Academy of Dance in their Junior and Senior company respectively. Mapel is now dancing with 13 years of experience under her belt. "At first, it wasn't my choice to begin dance. My mom signed me up," she said. "But over the years it became something I loved."
Hubeli has also been dancing her entire life. "I have been dancing since I was 3 years old," she said. "I love dancing so much. I wouldn't want to do anything else."