Teachers proudly display quirks in class
"Psychologically speaking, everyone has quirks," Psychology teacher Sean Hickey said. "There is no such thing as normal, but we define it as such to make things easy."
Whether people collect odd items or develop traditions they perform daily, many people have quirks, and the Mill's teachers are no exception.
Hickey has his own quirks and often expresses his love for Outback Steakhouse during his Psychology classes. "He talks a lot about Blooming Onions, but works them into whatever we are learning about that day," junior Cambron Kelly said.
He loves the restaurant because  "It was the first real restaurant that I was given an opportunity to order whatever I wanted on the menu when I was little," Hickey said.  He frequents Outback as a way to celebrate accomplishments or to devour one of his favorite items on the menu, the Blooming Onion.
Although trips to Outback started as a reward, it turned into a family tradition. Hickey said that when he graduated college from Oglethorpe University his parents took him to Outback. After his father passed away, the restaurant continued to hold a special place in his heart.  "It is a way to honor his legacy, and kind of a way to keep his memory alive even though he no longer is," he said. "It reminds me of everything he and my mother have done to help nurture my success and be supportive."
Similarly, English teachers Lela Crowder and Jillian Bowen also have their own quirks. Both teachers have an appreciation for pens. "I have pens from all over the world, and I have probably spent somewhere in the thousands of dollars," Crowder said. "I get so much joy out of something so little and inexpensive."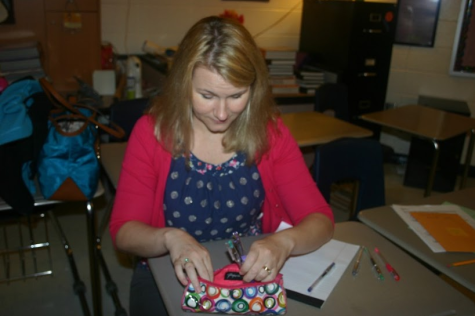 Crowder's pen collection is hard to miss. Junior Kennon Golden said that "it's a really cool and interesting collection to look at especially because there are bags of them."
Both English teachers note that pens are more than just an everyday writing utensil to them. Bowen's fascination with pens began when she got her first mechanical pencil in second grade. After that, her interest began to venture to pens. "In college, I started color-coding things more and really got into pens as well as letter-writing," Bowen said.
Her quirk with pens led to superstition in college football. Bowen is seen sporting University of Georgia gear during football season, and there's one color you will never catch her writing with. " I avoid orange at all costs," Bowen said. "Really, it goes back to football season. I have silly superstitions about SEC football." She said that it seems like every time she picks up an orange pen or marker, one of the orange teams, like Florida or Auburn University, beats UGA.
While a student may run across colorful pens in Bowen and Crowder's rooms, Batman paraphernalia takes center stage in English teacher Shad Genovese's classroom.  
"The early 90's, when the first Tim Burton film came out, was when I really developed my love for Batman," Genovese said.  He expresses his love for Batman through his vibrantly decorated classroom. Genovese likes the well-known superhero because "the character to me is like one that is self made, relies on his head and intellect that can translate to the classroom," Genovese said. 
Many teachers and students notice Batman figures and symbols displayed as soon as they enter his room. Alumnus of Starr's Mill, Dan Vinson, who now attends the University of West Georgia, remembers "walking into class each day surrounded by the Batman persona."
These quirks make an impact on Starr's Mill students and create unique legacies for their teachers that will be remembered after their high school years.  Educators at the Mill have developed a quirk unique to them over their lives because of personal experiences, and they proudly share their quirks with their students.