Morning announcements lose the 'Ms. Vicky' flair
Vicky Swaerkosz retires after 18 years of working at the Mill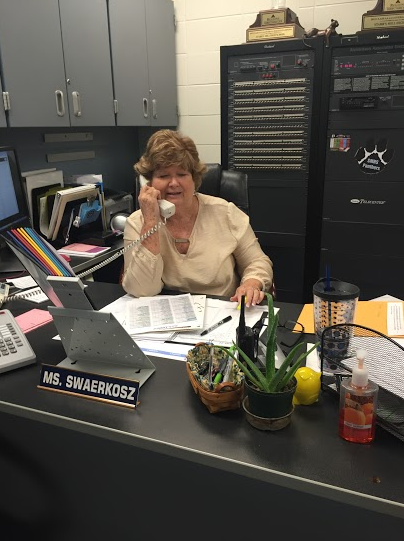 Long-time front office secretary Vicky Swaerkosz gave her last morning announcement on Aug. 31.  Through tears of joy and sadness, she gave her final farewell before retiring, thanking both students and faculty members for leaving an impact on her life.
"I'm really going to miss Mrs. Vicky's morning announcements. They inspired me and gave me the push to continue my day with a smile," junior Hutton Koehne said.
When Sam Sweat was the assistant principal, Swaerkosz's youngest daughter Gale was a senior at the time, and Swaerkosz was elected Parent Teacher Student Organization president for the third time. "I started here the day the doors opened, and for years I was just a volunteer," Swaerkosz said.
After 18 years working at the Mill, Swaerkosz decided to move on to the next stage of her life. "I'm old!" Swaerkosz said. "It's time for me to go."
She began her work in the front office when Starr's Mill opened in 1997. Swaerkosz worked her way up to front office secretary. She fell in love with the school, the faculty and the students. "My heart is here," Swaerkosz said. "Starr's Mill was great to my babies, and I love the babies that are already here. I couldn't imagine being anywhere else."
Swaerkosz gained many priceless experiences over the years since working at Starr's Mill. One of her favorite memories in particular was in 2014 during the special needs talent show.
They pulled her up on stage and gave her a bouquet of flowers because Swaerkosz treated that class like her own children. She would buy presents and throw a pizza party for them every year. "That will always be a special moment to me," Swaerkosz said.
Another memory Swaerkosz will miss is laughing with Audrey Toney everyday in the front office about nothing in particular. Toney was principal at the Mill for 10 years, having just moved to a county office position at the beginning of this school year.
"We would laugh so hard sometimes that she would come out of her office just to laugh with us!" Swaerkosz said.
Since Swaerkosz has been with the Mill for so long, she started her own tradition. During December, she decided to put a holiday tree decorated with blue and silver ornaments in the middle of the rotunda, and the school has put it there ever since.
"I started the Christmas tree in the rotunda. I hope it continues when I go," Swaerkosz said.
For her retirement, she's planning a move south with her husband. "I'm gonna go to the beach with all the old people in Florida," Swaerkosz joked.
She will be visiting her daughter, Gale, in Bogota, Colombia, and going on a European cruise. In October she plans to take Toney to Las Vegas, because Toney has never been to Vegas, and Swaerkosz wants to take her to all of the shows.
Through her time at the Mill, Swaerkosz made many friends and memories. "I'm gonna miss how cheerful she always sounded and she made everybody feel so good," Guidance Counselor Paula O'shields said.
The Mill waved goodbye to Swaerkosz a month into the school year, and according to adaptive curriculum specialist Courtney Savage, "The morning announcements won't be the same without her laugh."