Students' schedules expand to the breaking point
As each new class passes through the halls of Starr's Mill, the pressures build up more and more. College expectations have soared, and high school seems to be four years dedicated to resume building rather than enjoying classes and adolescence.
From sports and jobs to clubs and grades, students constantly fill their plates higher and higher until life's little comforts have to be sacrificed. "Sleep is a laughable concept," senior Victoria Alvarez said.
Alvarez is one of the varsity volleyball captains, takes three Advanced Placement classes, and participates in a variety of clubs. "Usually I go to sleep at 12 a.m. or 1 a.m., sometimes later. I have a lot of work to do," Alvarez said.
She spends around 10 hours a week on team practices for school volleyball, not including tournaments, personal workouts, and club volleyball. Despite her busy schedule and challenging classes, she manages to be in the top 10 percent of her class. "I try not to let playing a sport affect my grades," she said. "Sometimes it's hard to get work done, especially after games, but I really try to keep my grades up."
Other students in the school have similar schedules to Alvarez. Whether it's volleyball or some other activity, the 3:45 bell signals the end of the school day, but the daily grind isn't over yet.
Senior Kacey Yonkovitz, for example, spends two and a half hours on marching band practice almost every day and participates in football games and competitions. She said they usually gets home around 7 p.m. after practice.
While Yonkovitz and Alvarez are participating willingly in these activities, there's a definite push to join extra clubs or teams to fill the college resume. "I feel like every kid in high school does certain activities just for the college applications," Alvarez said. "A lot of people join Beta Club because it looks good on a college application, not because they want to do community service." 
"
Sleep is a laughable concept."
— Victoria Alvarez
Junior Mary Ellis Goins agreed with Alvarez. "I don't think I'd voluntarily go out and serve in the community if it wasn't for Beta hours," she said regarding her involvement in Beta Club and National Honor Society. She admitted to being in Health Occupation Students of America and student government only to add meat to her college applications. "To me, they're just more clubs," she said.
Whether a student's interest in a club is genuine or contrived, activities outside of school always add to their workload. Yonkovitz's key to juggling marching band along with her AP classes and other activities is weekend work. "I do a lot of work on the weekends," she said. "If I know I'm not going to be able to do it during the weekdays, I stock up on the weekends."
But where in these full schedules do students leave time to have social lives? Yonkovitz said she doesn't think band and school completely stops her from spending time with friends, but she has to "focus on more school-oriented stuff and stick to a specific schedule."
Senior Kelly Wildermuth currently works at Johnny's Pizza and has answered, "I can't, I'm working," to many of her friends' invitations. "It's a little bit more difficult because a lot of times I'm working when my friends are doing stuff, so I can't do everything I want to do," Wildermuth said. She said her managers are flexible, but she has "less stories to tell because I wasn't always there."
She applied to Johnny's after talking with her parents and deciding that she could handle the workload. "I'm taking two AP classes," Wildermuth said, "and because I love music, AP Music Theory is a pretty easy class for me."
Wildermuth works around 15 hours a week and thinks she can handle up to 20 hours. "My job doesn't affect my grades because I don't let it. If I did, I couldn't have a job," she said.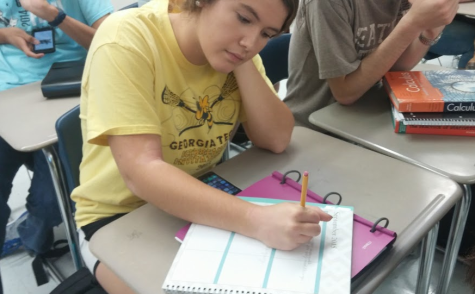 Senior Allie Merritt threatened to quit her part-time job and drastically reduced her hours because work along with lacrosse, clubs, and classes were too much on her plate. "I stayed up at all hours," Merritt said. "It was too much for me to succeed and do well compared to how I would normally do. I was barely given enough time to do my work, much less do it well."
The pressure to have a job, good grades and extracurriculars stems from different places for different students. Some feel it from parents, but senior Drew Dohany feels it internally. "I set such high expectations for myself," he said. "I feel like sometimes it's unachievable, which makes me sad."
College is another point of concern, for seniors especially. The entirety of high school builds up to the fall semester of senior year when the application process begins. "It's kind of exciting filling out applications," Alvarez said. "It makes you think about what you want to do with your life and where you want to go."
At the same time, the process adds stress to the already hectic lives of the high school students. "It's a very long and tedious process and there's so much that goes into it," Alvarez said. "It's kind of hard to juggle that with school at the same time."
Students have to worry about getting transcripts, teacher and counselor recommendations, brag sheets and test scores. They have to write essays, fill out scholarships, complete financial aid packets and finish their applications for each college. Add this to Alvarez's volleyball practices and homework or Yonkovitz's marching band practices and AP classes, and the process threatens to unbalance their carefully managed schedules.
But seniors aren't the only ones with a hefty workload. The pressures to take difficult classes begins freshmen year with gifted, honors and AP classes. "I take AP classes because it looks good on a college application, and it's a good challenge," Alvarez said.
Alvarez began taking AP classes as soon as possible with AP World History her sophomore year along with other challenging classes like accelerated math classes and other gifted courses.
Other students agree that difficult classes aren't just to build the resume. "Having more work in the class just makes you learn the material better, and you might like it more," senior Pamela Jew said. Jew's favorite class is AP European History, and she also said this is one of the classes with the largest workload.
Even the underclassmen who are not yet choosing colleges to apply to have found their school days to be piled with more and more responsibilities.
Junior Carter Rogers takes three AP classes and also participates in Panther Pride. He said band practices are long and mandatory, and he definitely feels the pressure of high school but doesn't mind them. "I get that we have certain things we need to do, so I don't feel bad for being pressured into stuff I need to do," he said.
His strategy for time management isn't as concrete as other seniors. "To be honest, I usually just wing it," he said. "I do what's most important to me right now, then I worry about everything else after, which probably isn't good."
While some coping strategies seem better than others, they all stem from the same problem: stress.
"I feel like there is definitely pressure to spread yourself too thin," Alvarez said. "There's pressure from parents, teachers, and other students to always go the extra mile and do as much as you can. It's really hard to find a good balance."