Seniors warm up their political voices as election season begins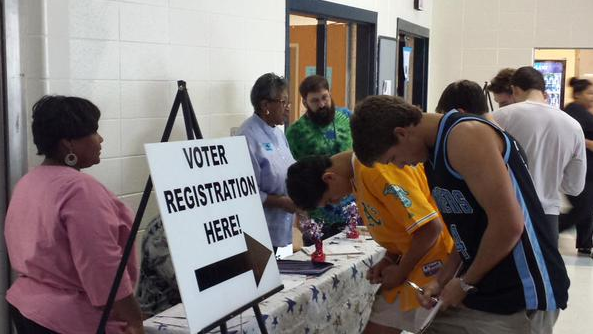 To most people, the passage of Labor Day weekend signals the end of summer. Every four years, however, this date brings more than just an unofficial ban on white clothing. Already, a buzz is beginning to fill the halls– talk about candidates, platforms and primaries. Election season has officially begun, and members of the senior class will be turning 18 just in time to cast their ballots.
But before they can begin discussing all of the hottest political topics and debate the validity of the candidates, students first have to decide whether or not they truly want to vote.
For students who feel passionately about exercising their democratic rights, this decision is an easy one. "I've been following politics since I was a little girl," senior Allie Merritt said, "and I'm excited that I can finally vote."
Merritt has already started considering the individual candidates as the date of the Georgia primaries approaches. In Georgia, registered voters can chose to participate in either the Republican or Democratic primary, both of which will be March 1. "I really want Carly Fiorina to be the Republican nominee," Merritt said, "and I wish I could vote for her in the primaries." Merritt turns 18 in March, missing the primary registration deadline of Feb. 1.
Senior Maddie Beatty, on the other hand, is glad her birthday isn't until April. Beatty's main concern? The sheer volume of candidates currently running for a nomination: five Democrats and 18 Republicans. "There are so many candidates that being properly informed before voting [in the primaries] would be difficult," she said. "I'll be glad to have my choices narrowed down for me in the general election."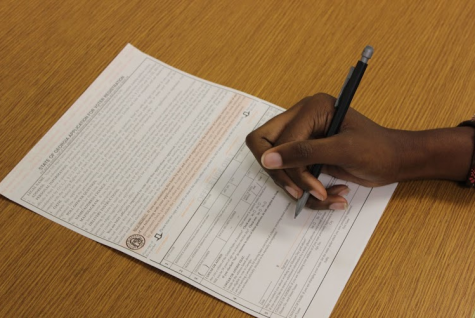 As Beatty and Merritt prepare for the election next November, other students have already written off voting entirely. For senior Evan Johnson, the act seems almost futile. "Because of the way the electoral college works, we don't even get to vote for candidates directly," Johnson said. "Individual votes really don't matter."
Other students are still on the fence, unsure of whether voting is right for them. "I might decide to vote," senior Kristen Simpson said, "if I feel like I know enough about the issues."
As some students wrestle with whether they should or shouldn't cast their ballot, others wish they had the privilege of such a choice. "My family has been petitioning for citizenship for 11 years," senior Dhruva Jandyhala said.
Jandyhala, who is currently a Indian citizen, can't vote. "I want to be a part of the system," Jandyhala said, "and I consider myself well-informed and prepared."
Seniors seem to agree that being "well-informed" is one of the most important components of the election process. As Beatty put it, "It's important to be informed on the policies before you vote, especially if the decision could affect you."
Many students have taken Beatty's advice and begun thinking about recent hot-button issues and developing their own opinions. "For me," senior Gabriella Huguley said, "a candidate's opinion on the Kim Davis case might change how I feel about them."
Seniors have a variety of issues they're concerned about, ranging from the particular to the broad. "I just want someone who advocates for women and racial minorities," senior Arisha Ali said.
And while the content of a candidate's platform is crucial, sometimes consistency of beliefs is just as important. In Merritt's opinion, the worst kind of politician is one who changes their stance, or "flip-flops."  "I want to see someone who is truthful and sticks to their policies," Merritt said.
Senior Victoria Alvarez agreed. "You don't want a candidate who changes their positions based on public opinion," she said.
But stances on certain topics aren't the only thing that help people judge a candidate. Sometimes, a candidate wins the hearts of voters with their personality alone. However, voters can rarely agree on what makes a politician respectable.
Each student has different traits they value most highly when it comes to politics. "America needs honesty," Huguley said. "We don't need a con artist running our country and ruining our image."
"
America needs honesty."
— Gabriella Huguley
Personally, Alvarez values authenticity. "You want someone who is a genuine, good person," she said.
For senior Drew Van de Motter, a timid candidate is not an option. "I'm not a fan of the Democrats," Van de Motter said, "and I think we need a Republican president, someone with real courage, to make the world respect us again."
Huguley and Van de Motter's concerns for public image come from their knowledge of the Commander in Chief's international role. The president of the United States acts as a symbol of the country to the rest of the world, and voters want a candidate that reflects their own values.
The idea of appointing a candidate to the most powerful position in the world can be a source of stress within itself. With so many different factors to consider, some see voting as a burden. "It's a little daunting," senior Drew Dohany said. "Voting is a huge responsibility."
The huge influence that seniors now have on the political process is something that weighs on Ali. "It's a little cliche, but the future of America is in our hands," she said. "We can either make it better or really screw it up."
But not all students view this enormous responsibility in a negative light. For Alvarez, this newly acquired right is a source of inspiration. "Being able to vote is thrilling," Alvarez said. "We finally have a chance to be part of something bigger."