Sophomores recognized as published poets
"It feels good that something of mine is good enough to be published," sophomore Dana Gould said, regarding her published poem in The Celebration of Poets.
As part of the Writer's Workshop class last year, Justin Spencer had his students submit their works into two different contests as a requirement. Because of this, Gould, as well sophomore Ashton Long, had their poems selected for this collection.  
"It gives me confidence," Long said. "It helps me feel like I can achieve my goals as an author."
"
It helps me feel like I can achieve my goals as an author"
— Ashton Long
The girls both wrote a Shakespearean sonnet and entered it into this contest. The inspiration for the sonnet was from Spencer's series of projects, or productions. Long wrote "Love at First Sight?" incorporating Victorian language, while Goud wrote "Wishing I had His Forever," in which the speaker longs for a feeling of togetherness.  
Gould has entered works into six contests total, and two of her poems have been selected. Long has also entered six different contests, and two of her poems and one prose piece was selected to be published. Both girls were published in The Celebration of Poets and Eloquence, and Long wrote a prose piece that was published online on Teen Ink.
Long enjoys writing both poetry and prose but favors poetry more. She plans on majoring in English, and she has dreams to fill a book with her own short stories and poems. Long has also entered a piece in a contest outside of school, "Red Satin Shoes" prose piece for the New Yorker.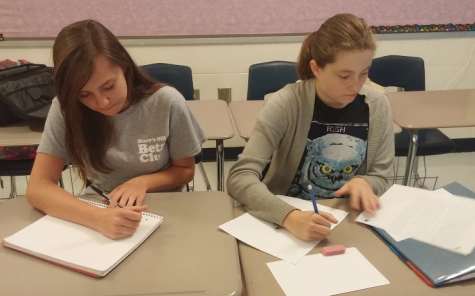 Long hopes that her piece is unique enough to catch the eye of an editor and be published by a long-standing newspaper. In "Red Satin Shoes," "the character's mother turns out to be a drunk and her aunt has to come pick her up and take care of her," Long explained.
Gould also tends to lean toward poetry. "It is much easier for me to write," Gould said, "and I find that I can make poetry flow better."
Despite Gould's love of poetry, she plans on majoring in biology to research genetics or biomedical engineering, but she's considering English as a possibility. With an English major, she would try her hand at writing novels. "I would much rather doing something science related, though," Gould said. She plans on writing more throughout her high school career for her own enjoyment.
The girls have both decided to take Advanced Creative Writing taught by Jillian Bowen, and they will participate in the publication of the Musings literary magazine.
Both Gould and Long are proud of their accomplishments and have more than two years left in high school to do more. "I want to put myself out there and inspire others to write," Long said.