Tailgaters paint up to pump up the crowd
"Football games wouldn't be the same without tailgate, because there wouldn't be as much energy and excitement from the students," four-year member and Tailgate club president Corey Soper said.
Tailgate is a student-led organization that includes cookouts, corn hole, free food and a place to talk with friends before the football game. It is open to all grades and costs $20 to join. Students listen to music, play frisbee and toss footballs to gear up for the game.
Tailgate usually starts an hour before the football games, and once game time approaches, students run to the stadium and fill up the student section of the stands.    
"Their real motive for tailgate is to encourage the team, be supportive and encourage the crowd to be active and involved. They define positive Panther pride," athletic director Sandy Martin said.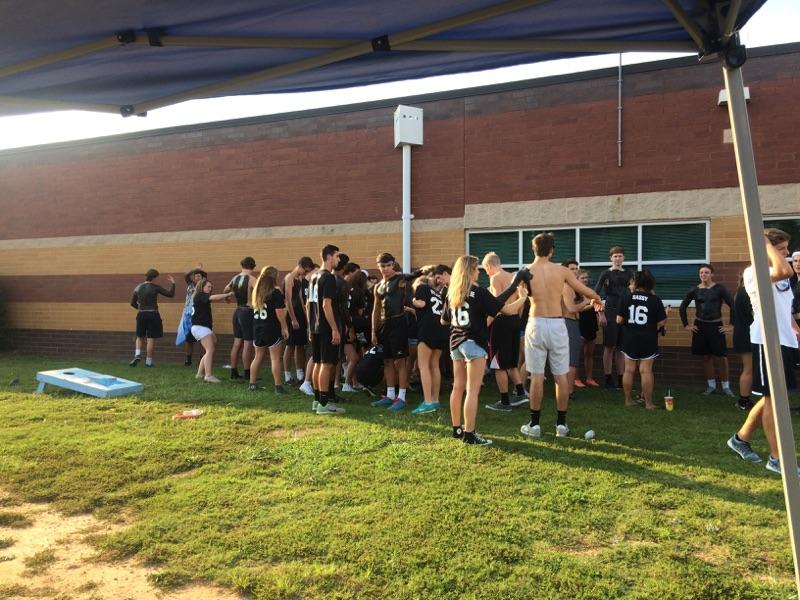 The tailgating club stands on school traditions. Before every game, seniors paint up depending on the theme of the game. During the first home football game in October, they support breast cancer awareness by painting up in pink. But one thing never changes: they paint the last names and numbers of the senior football players on their backs.
Corey Soper was appointed as spirit leader by SMHS alumn Adam Goodman and gets the student section pumped up for the game. The leader also swings the school flag to celebrate touchdowns and does pushups with the cheerleaders for every point the team earns. "My favorite thing about tailgate is seeing all my friends and getting pumped for the game," sophomore Kennedy Dennis said.
The painted-up seniors usually lead the group in chants like "that was easy" when the Panthers scored or "defense" to encourage the football players. A fan favorite is the roller coaster cheer, which is when the whole student section sits down and "buckles up" for a ride led by Soper.
"I love all of the cheers we chant at the games, you can really feel the school spirit in the stands," junior Hayden Long said. 
Tailgating members use the club to show school spirit at every game. While Homecoming only comes once a year, Friday night lights happen all season, and tailgaters pump up the crowd every game.
"We want all the students to enjoy tailgating, and hope they continue to carry on the traditions for more years to come," Soper said.