Students fall into fashion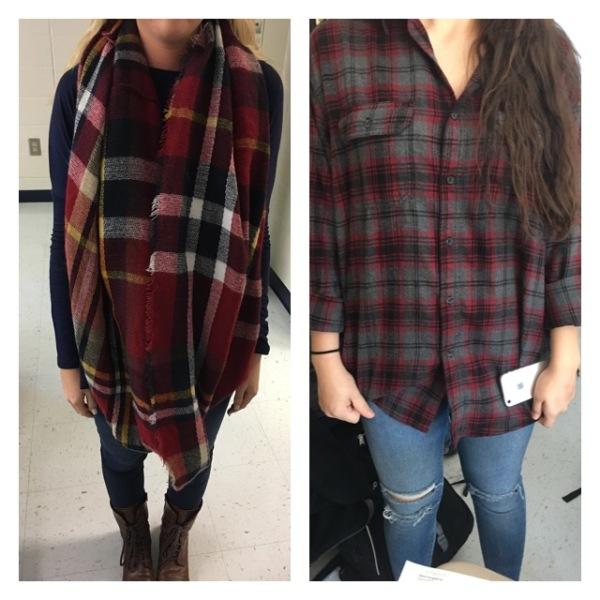 With the arrival of fall comes Friday night football, bonfires, pumpkin carving, and a break from the summer heat. Not only do students  love fall for these reasons, but also because of the cute, comfy, and cozy clothes. Whether it be over-sized sweaters, leggings, boots, or blanket scarfs, fall is one of the best seasons for fashion.
Flannels are a popular fashion seen around the Mill this season and students "love to wear flannels because they are comfy and super cute," junior Ainslie Schmidt said. Some students dress flannels up with jeans and booties or wear them when dressing down with leggings and converse. Layering the flannels over a cute top or a t-shirt is another big trend.
"I love the way you can layer clothes" Schmidt said. Layering clothes is also a good way to keep warm on the cooler days. With all the wild Georgia weather, layering clothes is a perfect way to stay warm in the morning, and a quick way to cool off in the warmer afternoon. Layering also gives students the opportunity to layer many different colors.
Colors of fall fashion include rustic colors like oranges, reds, yellows, and browns. "I love the fall colors and wearing blanket scarves with booties," junior Bailey Powers said. Booties are a more recent style here at the Mill. They are shorter boots that people can match with any fall outfit.
"
Wearing cute sweaters paired with jeans and booties make me so excited for fall."
— sophomore Evy Dunn
"Wearing cute sweaters paired with jeans and booties make me so excited for fall," sophomore Evy Dunn said. Over-sized sweaters are one of the biggest trends at the Mill. They give the students comfort and warmth as the cooler temperatures approach. Sweaters create an opportunity to accessorize with jewelry and different scarves.
Many students enjoy the warm blanket scarves trend.  The over-sized and soft scarves are fashionable to wear with large sweaters or large, plain tops, also known as piko tops. Students can be seen sporting these knit statement pieces in early November and throughout December.
Fall is a time for many students to show off their style. All the comfy, cozy, and fashionable clothes are a great way to express inner fashion. Many of these styles can be found at Lizard Thicket in the Kedron Shopping Center, and other local retail stores.