A roaring success
Starr's Mill grad heads film venture
Filmmaking: the sequencing of frames at a certain speed in order to create the illusion of motion. It is in this precise art that lies our most vivid and sincere form of storytelling.
Emily Breault is an entrepreneur exploring film's unique capacity to inspire. Her production agency, Bleu Lion Media, works with various clients to produce high-quality digital content in both design and advertising. In her work, she wants not only to provide a service but also to tell a story. "I love that I get to know my clients and build relationships with them, which allows me to understand their business and their goals to create a quality product they will be proud to show," Breault said.
Far before she knew anything about the technical aspects of film, Breault had a fascination with cameras. Those close to her shaped this curiosity. "Growing up, my dad always had his video camera out, filming anything and everything. So part of the reason I probably got interested in production was because of him," Breault said. However, it wasn't until high school that this dream was fully realized.
Breault is a Starr's Mill alumna. During a group project in her sophomore theater class, Breault took an opportunity to explore her talents. "We had to film a thirty-minute sitcom. No one knew how to edit, so I volunteered to figure it out," Breault said. "I fell in love with it."
"
I think with teachers allowing me to tap into my creativity, it created many opportunities to gain further experience."
— Emily Breault
Classes and teachers at the Mill gave her the ability to continue pursuing her passion. "After discovering my love for production in my theater class, I somehow convinced the majority of my teachers to let me make videos for all of my class projects. I think with teachers allowing me to tap into my creativity, it created many opportunities to gain further experience," Breault said. "I always developed great relationships with my teachers at Starr's Mill, and they always encouraged me to think outside the box."
After high school, Breault attended the University of Georgia and obtained a degree in video production and theater. During her college years, she had many formative experiences as a filmmaker. She developed script writing skills through independent study programs and gained practical experience through her involvement in internships. She received a great deal of positive feedback for her work during school, including Best Drama at Campus Movie Fest for "The Hub," her film to spread awareness of child sex trafficking. Her professional career kickstarted while she was still in school, working on the reality series "Say Yes to the Dress."
Shortly after graduating from college, Breault founded her production company, then called eBreezy Media. Early in 2017, she re-envisioned her project, and with that came the change to Bleu Lion Media. "It was time to move on from high school nicknames. From a marketing standpoint, it was hard to characterize eBreezy, yet Bleu Lion works great with logo designs and branding," Breault said. With this transition, Breault hopes to broaden the scope of her work and expand her client base.
New doors are opening to Breault because of her position at Pinewood Studios' Production Centre here in Fayetteville. "I've been working with Pinewood ever since they broke ground and have had an office there ever since they opened. I've filmed and photographed the progress of the construction and produced videos featured at their annual galas. It's like a family there," Breault said.
As Pinewood continues to expand in the community, many opportunities are at not only Breault's, but the community's fingertips. This is especially exciting when considering the 234-acre, multi-use development, Pinewood Forrest, planned to be built near the studio. Local filmmakers and residents like Breault are thrilled to be involved. "It's truly amazing to be a part of it, and I'm excited to see my business grow even more as the studios and Pinewood Forrest develop over the years," Breault said.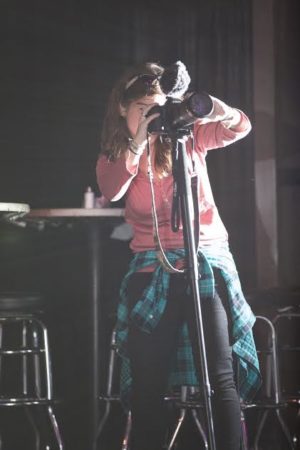 Although Breault's future certainly looks bright, she still faces some hurdles. According to Center for the Study of Women in Television and Film, women still account for only a small fraction of individuals working in production.
Despite the dearth of women in her field, Breault has been able to find inspiration in other places. "I have always looked up to Tina Fey, Amy Poehler, Kristen Wiig, and Julia Louis-Dreyfus. I don't necessarily do the same type of work as them now, but I have always been inspired by successful women in the industry, especially comedy," Breault said. "The low amount of women in production creates both a challenge and an opportunity by making me more determined to do what I love to do."
Whether it's the Board of Education, Georgia Military College, or Chick-fil-A, Breault has worked extensively with both local and large businesses while still being able to maintain a close relationship with clients. "What sets me apart is that as a small company, I can spend more time getting to know my clients. This allows me to know exactly what they want, who they are, what their goals are and what message they are trying to convey," Breault said.
The company's all-encompassing nature means that Breault's job changes from day to day, depending on the project. "There's not really an 'average' day on a shoot," Breault said. "Every shoot is different because I have so many different types of clients and different kinds of projects. I get to meet so many different people that work in different industries and travel all over the country."
Bleu Lion Media can therefore be difficult to categorize, but a sampling of projects can give the outsider an idea. Breault explained what a day at work might look like for a corporate branding video, saying, "I'll work with my team on writing a script that conveys their message, and then we'll shoot B-roll footage of what it is exactly they do, show their employees working in their environment, film their products, film other environments or interesting landscapes or locations as it pertains to the script."
One project Breault found particularly powerful was part of a branding campaign with UPtv entitled "Uplifting Entertainers." The campaign featured window washers dressed up as superheroes in order to cheer up children at a hospital in Akron, Ohio. "Seeing the kids' reactions to the superheroes rappel down the building was amazing. It was hands down one of my favorite projects. I love working on projects that are meaningful and make a difference in people's lives," Breault said.
Using film to assist others while telling meaningful stories is what matters most to Breault. "My clients come to me because they need something, whether it's a branding video or a documentary or a movie trailer, and it's important because at the end of the day it's helping them," Breault said. "It's helping their business grow. It's helping tell their story. It's helping them to get people excited about what they do and about their product."
Examples of Breault's work can be found at bleulionmedia.com.