A decade of service in the Panther Pit
Beloved basketball manager reflects on his 10 years with varsity program
Whenever spectators come to a Starr's Mill varsity boys' basketball game, they see the student section cheer the Panthers on to victory. However, the Panthers' greatest supporter actually lies within their own team.  
Basketball manager Ethan Harris was a student at the Mill, graduating in the year 2010.  "Ethan has always been a very hard worker. He is organized and always has a smile on his face," special education teacher Courtney Savage said.  
"
For him to be so included and made to feel like one of the guys, it means the world to him. It does my heart so much good.
— Karen Harris
Harris progressed through the Starr's Mill feeder pattern attending Braelinn Elementary School, Rising Starr Middle School, then Starr's Mill. He quickly became a Panther favorite among his peers. "Ethan is an amazing young man who has captured the hearts of students, teachers, coaches, players and the SMHS community for years," Savage said. "Ethan will forever be one of my favorite students."
Harris's positive outlook on life as well as his outgoing nature shined through the halls of Starr's Mill. "As a student, Ethan was super social and loved hanging out in the halls," speech therapist Shannon Gagliano said.  "He loved being a part of the Starr's Mill student body, and all the students loved him as well."
During his years at the Mill, Harris was offered a position as manager of the varsity boys' basketball team by current head coach Brandon Hutchins after his father approached him about working in the basketball program. This season marks Harris' tenth year as manager. "He so looks forward to basketball season and getting to be with those kids. And as a mom, all of you do not know what this has meant to me. For him to be so included and made to feel like one of the guys, it means the world to him. It does my heart so much good," Ethan's mother, Karen Harris, said. "It is truly amazing what Coach Hutchins has allowed him to do over these 10 years, and the administration and everybody to still let him do it, means the world to me, and it means the world to Ethan. He absolutely loves it."
Harris comes to all of the boys' home and away games throughout the season.  "He comes out on the floor and pumps his fists and gets real excited. Those are my favorite memories, to see him smile, to see him enjoy it, and to see him get involved with the team and interact with the guys," Hutchins said.  
Harris enjoys socializing with the team whether it be on a bus ride to an away game or before stepping out onto Panther Pit.  "I like hanging out with the team," Harris said. "I like doing the waters for the boys and cheering them on."
He also attends all of the practices, giving the boys support whether it be running through plays or conditioning. "The boys work hard," Harris said. "I get them fired up."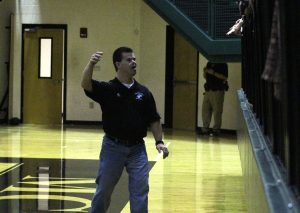 Over his 10 years, Harris has interacted with many players in this program, and all have left the same lasting impact. "The boys have been wonderful role models to Ethan over these years," Karen Harris said.  
Along with the entire Panther family, spectators will always find his biggest supporter, Karen Harris, in the stands supporting her number one Panther. "Ethan loves sports and family, especially his mom," Savage said.
Whether it be practice or a game, Harris always remains positive and constantly brings joy to the basketball program at the Mill. "My favorite thing is that he is always smiling. He's never really in a bad mood. Always has that smile," Hutchins said. "He lives life everyday to the fullest. He comes in and he is just happy to be here and that rubs off on you."
Hutchins and Harris have formed a close bond over their 10 years together.  "Coach Hutchins works hard, he is a good man and has no bad attitude," Harris said.
One can see their connection through their interactions at the games and in practice. They have a great deal of respect for one another. "Ethan means the world to our team and our program. He kind of keeps us humble because  when you get caught up in wins and losses, he kind of brings you back down to reality," Hutchins said.
Fans can see Harris and the rest of the Starr's Mill basketball program during the region tournament from Feb. 7-10 at the Starr's Mill High School Panther Pit. The boys finished their season at 15-9 and 7-5 in region play. They currently hold the second seed in the tournament and will play Morrow High at 7:30 p.m. on Feb. 8 for a shot to continue to state. The Lady Panther varsity basketball team finished their season at 12-12 and 5-7 in region play. They hold the fourth seed in the region tournament and will also be playing the Morrow Mustangs for a chance to enter the GHSA AAAAA state playoffs. Their game is at 4:00 p.m. on Feb. 7.
No matter the result of the tournament, the bond between a coach and manager will grow even stronger in the years to come, on and off the court. "Ethan really is like my son. He is really special to me. I would do anything for him," Hutchins said. "I take him home sometimes, and we try to stay in contact when the season is over. He is a very special young man and has captured my heart over the last 10 years."