Finding a place in the pride
Electives impact discovery of one's identity
When freshman Sydney Turnier scrolled tirelessly and excitedly through the long list of elective classes offered at Starr's Mill in the beginning of the year, she looked forward to selecting classes that would let her choose a new path to explore. Although they are referred to as 'connections' classes in middle school, electives still serve to help students broaden their education and "connect" with those who have similar interests. "Electives are an integral part of the high school experience. They expose students to numerous potential career options, give them insight into areas they previously knew nothing about, and can be a lot of fun," guidance counselor Colleen Petty said.
"
[Electives] expose students to numerous potential career options, give them insight into areas they previously knew nothing about, and can be a lot of fun."
— guidance counselor Colleen Petty
Starr's Mill operates on a seven period day "allowing students to take two to three electives each year," Petty said. There's no doubt that the seemingly infinite number of combinations and electives offered enables students to find their place among the student body or discover a new passion.
Senior Kelly Patterson took chorus as a connections class at Rising Starr and enjoyed it so much that she decided to continue with the class at Starr's Mill. After four years of taking Chanticleer, the mixed choir class,  Patterson concluded that the reason she took the class was because her initial exposure in middle school. In high school, Dr. John Odom played a huge role in the increasing passion Patterson had for chorus. "Dr. Odom has been an incredible teacher and conductor. He's introduced and help made beautiful music all the while running the entire choral department," Patterson said. "Without Dr. Odom my experience in chorus would not have been as great as it was."
This element of teacher influence also radiated to another Chanticleer member, senior Zarif Khan. "Dr. Odom constantly lectures the class on work ethic, and on how we should give our highest amount of effort in anything we do. Dr. Odom's emphasizes commitment," Khan said. "He also says you should always do something you love, even if the pay is not high because the fulfillment he gets from our success will bring him more joy than any paycheck."
Although he doesn't plan to pursue music full-time, Khan likes to believe that chorus influenced his decision to go into psychology. "While [being a psychiatrist]  has absolutely nothing to do with chorus, I like to believe chorus influenced my decision. The study of the brain comes easy to me, and I find great joy in it. Since Dr. Odom always says to do what you love— I will," Khan said.
'Doing what you love' is a life lesson senior Olivia Kimberling has been following three of her four years in high school as she "loves art," Kimberling said. Her increased love of art can also be due to the amount of support offered and soothing aspects of Drawing I/Design I, Drawing II/Painting, and Ceramics I/II provide. "Art has really helped through some of my anxiety and depression," Kimberling said.
Similar to the impact Dr. Odom had on Khan and Patterson, art teacher Todd Little has made a positive and lasting imprint on Kimberling. "I have never been good at doing realistic art and Little has been very encouraging and made me realize my designs (henna, mendhi, mandalas) and abstract art is actually really good," Kimberling said.
This new sense of having pride in one's work Kimberling experienced has been felt across the board from other students at Starr's Mill. Along with a sense a pride, junior Ginni Gray is confident that drama has taught her a few things for later in life. "Drama has taught me the important skill of working well with others. Theatre relies on all members of the class and without being able to work together productively, shows and projects will not be completed on time or be done to the best of our ability," Gray said. "This skill is essential to possess in the business world."
Currently and similarly to Khan, Gray plans on majoring in a career not directly related to her most beloved elective. However, that doesn't mean there isn't a connection. "As of right now, I plan on majoring in elementary education in college and would like to become a kindergarten teacher. Drama has impacted this decision because acting has taught me how to work with others really well," Gray said. "It's a skill required for my profession."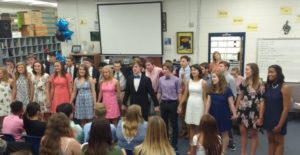 Before going into a profession, many people would agree that it's beneficial to have some self-discovery or a grasp on one's identity. For Patterson her elective has helped her find who she is. "All four years we've sang meaningful songs like Ave Maria and it makes you think about yourself and your relationship with God," Patterson said. "Chorus has made me realize that everyone has something or someone to love or lose and given me a sense of community and understanding."
Kimberling also made some self discoveries. "Art has become a positive coping mechanism for me. Actively being in art helps keep me centered in life," Kimberling said.
One of the other reasons that electives impact students lives' are through the people they meet in their classes. The sense of a family unity and bonding often develops within a few short months of taking the class.
"Having close friendships with my classmates creates a positive and safe environment not only in the classroom but allows me to have a group of friends that I can count on no matter what," Gray said.
For Kimberling, her years in art provided her with both a friendship-building environment and also a professional environment. "Sam Baker and Paige Chechele became my 'sisters' after meeting in our Drawing I/ Design I class and having the next two years together in the same art classes (Drawing II/Painting and Ceramics I/II ). In art, the three of us give each other constructive criticism and outside of the classroom, we always have each other's backs," Kimberling said.
If a passerby were to stop into a Chanticleer class, it would be apparent that Khan has also made countless bonds in his class. "My best friends are in the class. I see many of them as brothers and sisters. I have older friends in college who used to be in Chanticleer who I would have never expected to have such a close relationship with, and even though I don't get to see them all the time, we pick up right where we left off whenever they are back in town. While we all have different religious, political, and moral beliefs, we love each other," Khan said.  "Honestly, it will be weird leaving it all behind me. The past four years with my senior guys—it'll take some time to adjust. Right as I find myself settling in chorus I find that it's time to leave. My friends boost my confidence, and they brighten my day. Really though, these people are hilarious, and I often find myself in stitches from all the laughter. They're a reason to get up in the morning."
My own experiences at Starr's Mill resemble those of  Patterson, Khan, Kimberling, and Gray.
I've found that Khan's reasoning to wake up and start the day is the exact same as mine. I am so fortunate to have met such talented, passionate, and genuine people in both of my elective classes: journalism and drama. It's still mind boggling to me that I was initially wary of joining either class. I was worried I wouldn't be able to be a good journalist. As for drama, well, I just thought the thought of acting and theater to be a foolish profession.
For four years I've taken drama, all the way from Introduction to Drama to Advanced Drama II and without those classes, I'm not quite sure I would have survived high school. I was lucky enough to build some of the most wonderful friendships ever and become an actor and now, I make the largest smile when I say that performing is one of my greatest passions.
The same goes for journalism. Three years of working for The Prowler have taught me about friendships and an exponential number of life lessons including ones where I still have to perform as a good journalist even if someone else chooses not to. If I have a bad interview, schedule for another one, get the information and find the right people to talk to. I can't take 'No.' for an answer.  This 'stand my ground' position has helped to make me the stronger, more assertive person I am today.
Today I can also say drama and journalism have taught me so much about other people and myself. I find it fascinating and wonderful making connections with people and in both classes I was able to do so.
Through acting I'm able to learn a script and place a piece of myself into what I'm doing to convey emotion to the audience—I can make them feel or react to the same things I am. Journalism is a connection-filled art too and although I'm not physically in front of the person who's reading my article, my words are, which means my voice is.
If there's one thing I've been able to learn from journalism and drama, it's to keep my link to people, to keep my voice.