Back to school fashion at the Mill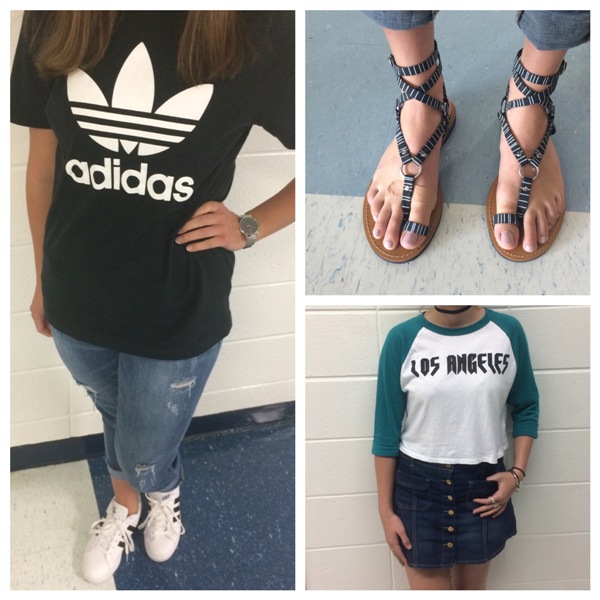 The beginning of a new school year means new trends and fashions. Girls and boys alike follow the styles that migrate through their social media feeds and create their own as the year starts.
Throughout the Mill, girls can be seen wearing button down skirts, cold-shoulder blouses, bralettes, and lace up sandals. For a more casual look, ripped jeans, graphic tees, and tennis shoes are seen around the school. Jewelry varies, but stacked bracelets and chokers are very common.
"I like to describe my style as comfort-chic," junior Alyson Phinney said." I would wear ripped jeans and tennis shoes every day if I could."
Boys have a more laid-back style, wearing athletic shorts and their favorite tshirts. They also have the option to dress up with button down or polo shirts and a nice pair of shorts.
There are a multitude of clothing stores available to students at Starr's Mill. Lizard Thicket is a great example where girls can fill their need of trendy clothes for reasonable prices.
Offering shirts and dresses that students love to buy, Country Club Prep is another location that people enjoy shopping at.
"[Lizard Thicket] is one of my favorite stores to shop at because they always have clothes that are on trend and appropriate for school," junior Isabelle Bowman said.
Whether they dress up or go for the more casual look, students at the Mill enjoy wearing outfits that are current and stylish. Styles, however, will begin to change as the weather does. "I can't wait to break out my sweaters and boots when fall comes around," Phinney said.