MOBA progresses toward a better future for U.S. soccer
The game of soccer has been growing rapidly in the United States over the past few decades. The fanbase and economy for the game have expanded and allowed the quality of play to reach new levels. A resident of Peachtree City realized how much potential the city has and used the talent pool to establish a new soccer club in the area. Now, two men sporting the iconic MOBA yellow have a vision for the future of soccer in the local area, and ultimately, the U.S.
"
While soccer in the U.S. is slowly growing into a competitive force on the international and club level, it still has a long way to go.
— Staff Writer Kyle Soto
Improving the game in a country such as the U.S. does not seem difficult considering the resources and population in the country. Various reasons can be attributed to the bridge between soccer in the U.S. and other countries, yet some of these reasons and differences may be overlooked.
The most obvious difference between soccer in the U.S. compared to European and South American countries is the quality of play. While soccer in the U.S. is slowly growing into a competitive force on the international and club level, it still has a long way to go.
Although the U.S. is catching up to the elevated standard created by other countries, there are various factors that need to be addressed and changed according to Volker Harms and Michael Rodriguez, two high ranking officials within the MOBA system. Their vision for the future is to eradicate the cultural and economic barriers that will ultimately hinder this progression.
Harms is the founder, owner, and club president of MOBA. Born and raised in Germany, he grew up in a culture dominated by soccer. He began playing at the age of seven and eventually played in the German youth program in what is now known as the Bundesliga, the top tier of soccer in the German league system. Harms also coached various youth teams and one adult team during his time in Germany. Once he moved stateside, he coached his son at the recreational and club levels. Harms soon met Rodriguez and they began building a new academy.
Rodriguez is another crucial element to the MOBA set up. He joined MOBA in May as the Director of the Youth Academy.  He began playing soccer at a young age and later found his way onto the U-17 U.S. Men's National Team where he played at the U-17 World Cup. He also played at the collegiate level and soon began competing as a professional player in the U.S. and abroad in Europe. Rodriguez has coached at the Developmental Academy, the highest level of youth soccer in the United States. He also coached in the third tier of Spanish youth soccer during his time in Spain.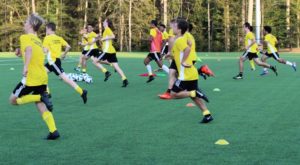 Harms and Rodriguez are both hoping to use their profound experience and knowledge of the game to elevate soccer in the local area. "It's always challenging when you're starting something new, but we feel we've done a good job of giving [ourselves] a base foundation to move forward," Rodriguez said.
In addition to quality of play, the youth set up is another primary difference between the U.S. and other countries. In the U.S., a youth player normally starts at a local soccer club such as Atlanta Football Club, Southern Soccer Academy, or Concorde Fire, all soccer clubs in the local Atlanta area.
These players normally play club soccer in the spring and high school soccer in the fall, with each season lasting around three months. They hope to attract attention from colleges and earn scholarships. From these colleges, some of these players hope to gain attention from a professional club and work their way to success. In Europe, it's a completely different story.
Most kids in Europe begin their quest to international stardom in the world of soccer at the age of 10 or younger. They normally play for 10 months with four days of practice, one day of recovery, one game on the weekend, and one day off every week. The culture in these other countries allows for this extensive and rigorous schedule, but it also allows foreign youth players to gain the experience needed to make it to the top level.
That's what soccer is about, especially in European and South American countries. Playing for the best teams and winning trophies is every young player's dream. According to Rodriguez, the culture in the U.S. calls for success, not growth. Therefore, a player can stay on a dominate team but never be faced with a new challenge that forces him to grow.
With the introduction of their new youth academy, MOBA wants to extinguish this cultural barrier. Rodriguez joined the MOBA team in May of 2017 as the director of the newly founded youth academy. The academy ranges from U-10 through U-18 on both the boys' and girls' sides. However, since MOBA has a Premiere Development League team, both Harms and Rodriguez hope players will stick with the youth academy and then return to play for their PDL and their National Premiere Soccer League teams, with the NPSL team being introduced next summer.
This is one path that no other nearby clubs can offer, with the exception being Atlanta United. MOBA's senior team gives their youth players a goal that seems reasonable and shows them playing for a professional club may not be impossible after all.
One of these perks is their state-of-the-art video recording system, which allows all of their teams the ability to analyze game footage from a high viewing point. MOBA also has a cutting edge workout facility, a players' lounge, and their own FIFA-sized turf fields.
These facilities can potentially offer a more comfortable atmosphere for its players and fans. A feeling of togetherness and control is in the MOBA atmosphere because their high quality fields are always available to their players. MOBA wants to provide opportunities for their youth teams that other clubs can't. MOBA is taking their U-16 boys to Spain as a way to show them international youth soccer.
The U-16 boys will have the ability to immerse themselves in the Spanish culture and style of play. The team will visit Madrid, Malaga, and Sevilla. They will also play a Sevilla youth team and watch the first ever Madrid derby in the Wanda Metropolitano.
"
Without the academics, I can't help them no matter how good of a soccer player they are.
— Michael Rodriguez
MOBA wants to create opportunities for their players. One way they want to create these opportunities is helping them through the educational process.
MOBA has partnered with Capstone, a company that helps bridge students from high school to college, and a partnership with Huntington, a SAT and ACT practice center. MOBA is also hoping to start a college scholarship program as a way to financially support their players in the educational process. "Without the academics, I can't help them no matter how good of a soccer player they are," Rodriguez said.
Junior Jordan Cole, a Starr's Mill Panther, has played at the recreational, junior varsity, and club levels. He most recently joined the MOBA U-18 boys team.
"We've got a lot of [resources] at our disposal," Cole said. "Our coach is awesome, and he can still school any of us whenever he wants."
While MOBA has assisted the growth of the sport in the local area, they have also given people who don't play soccer opportunities to involve themselves in the club. One example is junior Harrison Smith, a student at Starr's Mill who writes his own MOBA blog. He also helped with the youth academy tryouts and live tweets all the PDL games from MOBA's twitter. Smith wants to work at the front desk of a major soccer club, and he believes being around an institution like MOBA will help him gain the knowledge and experience needed for a career in that field.
MOBA wants to take the talent Peachtree City is known for and create opportunities for its citizens. Ultimately, MOBA has one goal: progression. They desire to stimulate the game and move into a new direction, one that will better the game in the U.S. While there may be a long way to go, MOBA is hoping other smaller clubs will follow in their footsteps. Peachtree City MOBA looks to a bright future for the beautiful game.