Eleven voices composed for Starr-dom
Introducing the Men of the Mill
The Men of the Mill are so much more than a collage of inspiring voices. Composed of eleven members and completely student run, they are an impressive group with supporters from all over and within Starr's Mill.
The current co-presidents, senior Blake Ryan and junior Trey-Lee Orndorff, are leading this year's members into new opportunities through multiple performances that didn't take place in past years.  This year's choir is composed of students from multiple backgrounds and music flavors that are poised for their eventful schedule.
Freshman Sean Collins is this year's only ninth grader and was first motivated to pursue singing through his love for Disney. Collins views the Men of the Mill as a family and through them has been exposed to numerous friendship opportunities across all grade levels. Collins' favorite part about the Men of the Mill are the people in the group and how he is able to start the day off with them. His personal goal is to leave a mark, impress those around him, and help "make the Men of the Mill a big thing," Collins said.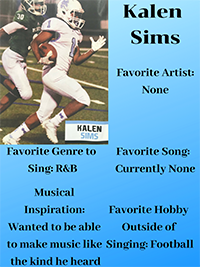 Junior Kalen Sims is taking on his first year as a member of Men of the Mill. His initial motivation to join chorus came from simply singing, and singing and singing, until someone suggested he join a choir. To Sims the group is seen as a brotherhood."These boys they're like my buddies. We all love each other," Sims said. Sims' personal goal is to sing as best he can, being the optimal addition he can be to this brotherly group so that they sound exceptional together. In terms of the future for Sims, he hopes to gain a scholarship through football but will otherwise find himself continuing to sing.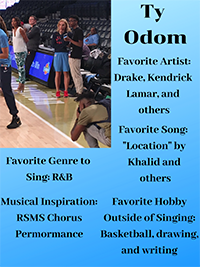 Senior Ty Odom is enjoying his first year as a part of the Men of the Mill. Odom's initial motivations to pursue singing came from Justin Timberlake, Maroon 5, Michael Jackson, and Bruno Mars. His personal goal is to make this version of Men of the Mill one of the best in history as this group is where Odom feels like he really has a place. "[My favorite part of the Men of the Mill is] finally having somewhere where I feel like I belong," Odom said.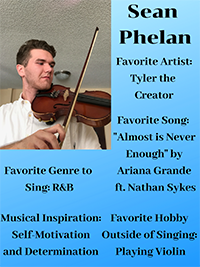 Senior Sean Phelan is also a first year member. The Men of the Mill to Phelan is a community of closely knit friends he gets to surround himself with at the start of the day, which he considers to be the best part of the day. "It's a community," Phelan said. "It's honestly one of the best parts of the day, you know? You wake up and you're looking forward to [school] because you've got good friends." The Men of the Mill are an incredible cluster of talent that contribute to Phelan's personal goal — being more confident in not only singing, but in everything he does.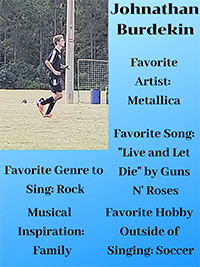 Junior Jonathan Burdekin is kicking off his second year as a member of the Men of the Mill. To Burdekin the group is a bunch of guys hanging out, having fun, and making music together as a great circle of friends. In middle school, Burdekin had just started singing and realized what a sweet sensation it was. "[It was] such a nice way to express myself and I just took it and went with it," Burdekin said. Having musically grown as much as he has, Burdekin now hopes to run for president next year. Although music will always be a part of his life, Burdekin sees his future self situated in a career in architecture.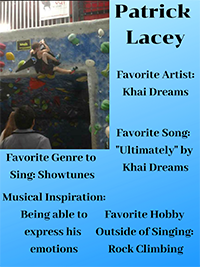 Sophomore Patrick Lacey, often called "Patty," is also a second year Men of the Mill member. Lacey's favorite part about being with the Men of the Mill is the team and family aspect which he truly enjoys, and it's where he feels he can be himself. "It's something that takes my mind off of a lot of things and also it lets me express my emotions better than other things will, just as people go to like poetry, art, and whatever. I go to music," Lacey said. Lacey's goal is to one day be president of the Men of the Mill and views the group as a privilege and freedom.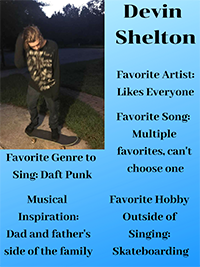 Sophomore Devin Shelton is continuing his second year as a member, and sees the Men of the Mill as family. His personal goal is to better himself and discover his full potential. "To be the best singer that I can be, to be the best musician that I can be," Shelton said. Shelton enjoys everything about the Men of the Mill and hopes to continue his love for music in the future, looking to open up a shop for all things music and be able to teach kids how to play instruments.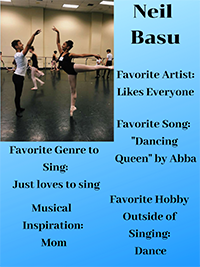 Junior Neil Basu is a second year Men of the Mill member. This group of students are Basu's closest friends and are like family to him. "I know I can trust these guys," Basu said. The Men of the Mill meeting is the highlight of his day, and Basu is always working to better himself. His personal goal is to be better at blending when singing. In the future, though never letting go of music, Basu hopes to go into dance education and pursue dance as a career.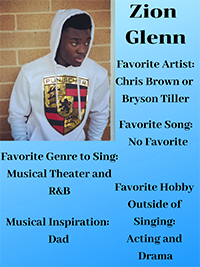 Senior Zion Glenn, second year member, never would have expected to be where he is now. Glenn had originally gotten into chorus by accident, and had for a while disliked it, but then everything came together. "I felt a really nice connection and I was like 'Wow music is actually pretty nice, I think I'm going to continue with it'," Glenn said. One of Glenn's favorite things about being a part of the Men of the Mill is knowing that their names are being spread around, and considering the group is completely student run, they have a growing fan base of supporters. Glenn's personal goal is to expand his singing range and hopes to one day be on Broadway.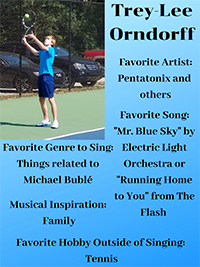 Junior Trey-Lee Orndorff is a two-year member of Men of the Mill. Orndorff is one of the co-presidents of the Men of the Mill this year and his personal goal is making sure the rest of the members truly have fun this year, are able to be themselves, and find peace in their imperfections. Orndorff believes society pushes the youth so hard toward perfection and really wants the group to "find some bliss in imperfection." Orndorff claims the Men of the Mill is the best high school experience that could have ever happened to him. In terms of his future, what Orndorff hopes for is "[to be] happy with my life's decisions."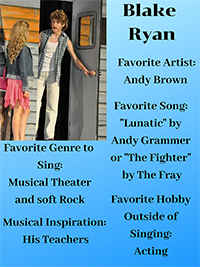 Senior Blake Ryan is the other co-President of the group this year and is the only Men of the Mill singer who has been a member all four years. Ryan, as a well-experienced member, sees the Men of the Mill like his baby. Ryan's personal goal is to see how well he's able to teach the younger members this year so he can have a better idea at how he'll do in his future."This year I'm able to take charge and place people how I want them, and teach people music, and set people up to be as good as they can," Ryan said. Due to inspiring and motivating teachers, and the closely knit friendship that the Men of the Mill have, Ryan now sees himself somewhere in a chorus room, teaching future students music.
The eleven members of the Men of the Mill are all unique in their own way. The group tries to get together every morning before school, starting at 7:30 a.m. and working together until the first bell. Typical practices are a bit chaotic as this is a student run program — no order, no structure — but in the end when they're all together, things get accomplished.
Because this group is such a fun environment to be surrounded by, you can expect to hear and see entertainment from them at their performances as they enjoy incorporating subtle choreography into their routines. Supporters can come and hear these eleven talented voices on Dec. 11 in Duke Auditorium.
Leave a Comment