Jotting in journals
Senior Scout Harris, with a talent for calligraphy and creativity, has combined her skills into making personalized bullet journals. 
It all began last school year when she couldn't find an agenda that worked just right for her. After seeing her friend with a bullet journal to simply take notes in, Harris got the idea that would unexpectedly end up bringing in some money for her.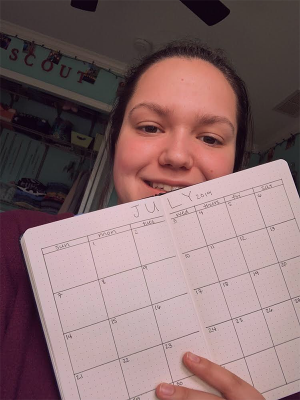 "I feel like [a bullet journal is] just an extremely personalized agenda, because you can really make it exactly how you want it," Harris said. 
She always starts with a blank journal, though it can come in a variety of colors. Harris prefers to start with blank pages to personalize her journals as much as possible. One day, someone took notice of Harris's craftsmanship and asked if she could make one for them. 
Harris agreed and ended up making six bullet journals for numerous people, including a teacher. She likes to personalize each journal, making them all different, and all special. 
"One thing that I like to do in all of mine is a mood tracker," Harris said. "So like each month, I come up with a cute little design and you can color it in based on how you feel each day."
On average, it takes Harris two days to fill out a blank journal for someone, complete with months, days, notes sections, and of course her signature mood trackers. She believes they make filling out a journal each day a little more exciting. They sell around $40 to $50 depending on whether they are a full year's worth or only a partial year. 
"I think it's just really fun to come up with ideas and make them all very different, because I made about five for other people, and then mine, but they're all completely different," Harris said.
Leave a Comment