Thrift shop clothing flips
College student Lily Carter is hoping to make an appearance at the Night Market with her new business, Kindred Spirits Clothing. Some of her apparel may already be showcased around the halls of Starr's Mill by her younger sister and sophomore Abby Carter. 
Carter currently attends Kennesaw State University and is majoring in mass communications with a focus on media and entertainment. Beginning in January, she and a friend spontaneously decided to tie-dye items and then spent the next several hours nurturing the idea of starting a business. 
February was when the idea finally took off, and though Carter's friend is now located in Boston, she still helps however she can. 
"Doing all of this has been really cool, like creating new shirts and clothes out of something you just see at a thrift store," Carter said. 
Kindred Spirits Clothing takes old clothes and alters them into something more fashionable and appealing to today's generation. Some of the alterations that Carter makes includes tie-dying, acid washing, cropping, and embroidering. 
Carter's business is more than just a creative outlet, though, as it is driven with a down to earth purpose. Carter and her friend love to go hiking and be outdoors, so Carter tries to be eco-friendly. 
"There's so many clothes that just get thrown away every single day, and it's so sad because it just piles up in the landfills," Carter said. "Our goal is take clothes from thrift stores and donations and turn them into something that's more relevant or into your style or what's out right now." 
The range of items which Carter had the opportunity to fashionably flip includes not only a basic, plain shirt, but also Nike and Adidas attire. Her prices are reasonable as well. One of the more expensive items is listed only at $35.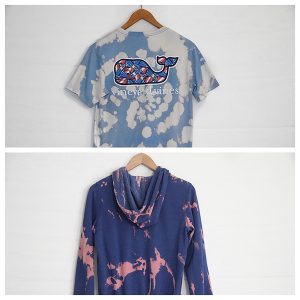 Trying to juggle her business into college life is a bit of a challenge, as she is also working another job. However, in any spare moments of free time, this business is what Carter goes to. 
"It doesn't feel like an extra job I have to do because I've just started loving it so much," Carter said. "I kind of get excited for my days off to do it. So it really helps doing something that I love. It doesn't feel like work at all." 
At the moment, Kindred Spirits Clothing is hoping to have their official website up and running sometime in the near future, but had previously been selling items through Depop. Aside from getting the website up, one of the company's next moves is to make an appearance at the Peachtree City Night Market. 
"It's creating something that's helping keep clothing out of the landfills, being eco-friendly, reusing old items," Carter said. "It's so fun to be creative with clothes." 
The Night Market is a public event that's held each month which hosts vendors — like Kindred Spirits Clothing — music, and food. 
Carter has been to the Night Market numerous times before, and loves getting to see all of the self-made businesses and entrepreneurs. Just as she believes the Night Market to be a great opportunity for the community to support local businesses, she believes it will be an excellent opportunity to support Kindred Spirits Clothing.
Leave a Comment