The passing of a hero
Reflecting on the life and impact of Ruth Bader Ginsburg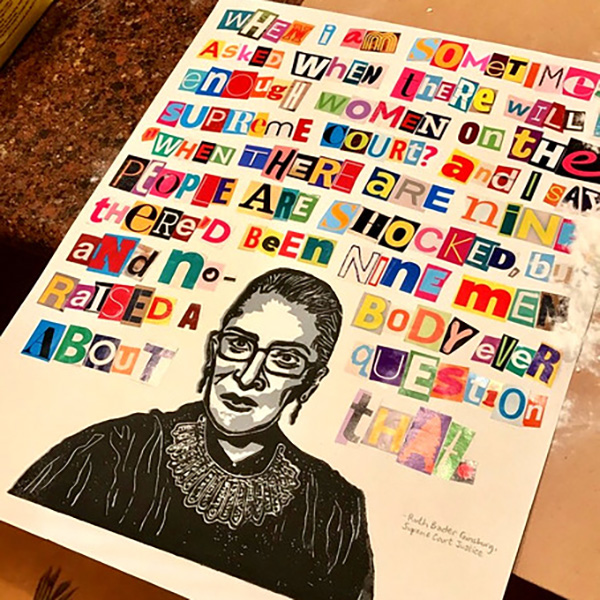 Last Friday's announcement of Ruth Bader Ginsburg's death marked the loss of the second woman ever appointed to the United States Supreme Court. It also signaled the loss of a childhood hero for me.
I remember when I was in the third grade, and I got assigned a research project on her. At nine-years-old, I really had no clue who in the world she was or why she was so important. During the process of the project, I not only learned more about history but I discovered the woman who to this day is one of my biggest inspirations. 
Justice Sandra Day O'Connor retired in January 2006, leaving Justice Ginsburg as the only female on the Supreme Court. She felt overlooked in the courtroom simply because of her gender, yet that did not stop her from fighting for the good of the people and for equality for women. Even before she was appointed to the Supreme Court during Bill Clinton's term as President of the United States, she led the fight in court for gender equality.
During her career, she fought for equality, not just for women, but for everyone. It was not an easy journey for her to get where she ended up. It was a long hard road painted with inequality and people telling her she could never make it. Not only was she the second woman to ever serve on the Supreme Court, but she was the first Jewish female justice, and she eventually became the longest-serving Jewish justice with 25 years on the federal bar.  
The "Titan of Justice"  was a pioneer advocate for women's rights and served on the Supreme Court for 13 years. The cause of her death was complications of metastatic pancreatic cancer, the Supreme Court said. They found two small tumors in the back of her throat, back in the fall of 2018. She beat colon cancer back in 1999 and early-stage pancreatic cancer 10 years later. She received a coronary stent to clear a blocked artery in 2014. Ginsburg passed away in her Washington home at the age of 87. She died peacefully surrounded by her family. 
America has lost one of the most inspirational women to ever walk the earth. Justice Ginsburg accomplished so much in her career including, but not limited to, helping women being admitted to universities, gaining equal rights for people with mental disabilities, legalizing same-sex marriages, and helping women obtain health and legal abortion options. She was and still is an icon for girls all over the world. 
Her memory will live on in the hope and opportunities of every young girl who grows up, dreams, and succeeds in America. Ruth Bader Ginsburg will forever be one of my personal heroes, and her legacy and lessons I will keep with me for the rest of my life.  
Leave a Comment