Exchange and exploration
Alumnus reflects on time in foreign exchange program
Mario Garcia, originally from Spain, participated in the exchange program, lived with a host home, and attended Starr's Mill all last school year. The experience will be one that remains unforgettable, especially due to the fact that Garcia has since written a poetry book called "Peachtree City," which earned him $9,400 from an International Poetry Prize in Madrid. 
"
Talking with humans or interacting with humans was one of the greatest influences in these poems. Tiny details made the poetry what it is."
— Panther alumnus Mario Garcia
"I was more focused on the idea, on the actual concept of living abroad, of [putting] yourself out of your bubble, out of the place you've been bringed [sic] up in the place where you've grown," Garcia said.
Participating in the exchange program, Garcia faced a few understandable foreign challenges, and language was obviously one of them. Garcia, and most people in Spain, can speak both English and Spanish, though several also additionally study Latin. 
Garcia found that linguistically the English language had several other complex layers, and since he is someone who considers himself a writer and has a great respect and attention for words, this was important to him. Other writers, poets, and authors influence literature, which he noted during his literature classes, but Garcia found his inspiration simply from the people around him. 
"In general, when we think about influencers, we actually see them from a very academic point of view," Garcia said. "Talking with humans or interacting with humans was one of the greatest influences in these poems. Tiny details made the poetry what it is." 
By being surrounded by these people, and our fellow Panthers, Garcia found how much he enjoyed the diversity in American culture. Garcia's amusement with this did not matter whether it was found in heavy topics, such as the religious aspect with how diversely spread Americans are, or whether it was found in more casual topics like the Kroger and Publix grocery systems. One particularly exceptional comparison he noticed, however, was how much American schools made him think of "High School Musical." 
"I couldn't believe the first week we actually had real lockers, and a yellow bus, and you know that kind of stuff," Garcia said. "Or even the cafeteria was incredible for me. You guys don't realize because, of course, you've lived there forever, and it's just a part of your daily life, you know. But for strangers, it seems like a movie."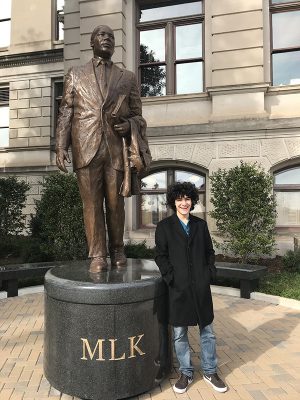 Another facet to Garcia's visit that left an impression on him was the inviting environment which helped leave behind some of his favorite memories. His classes and school productions that he participated in gave him an outlet to become closely connected to others, and his senior friends who are now college bound are ones that stand out in some of his favorite pictures. And last but not least, the welcoming kindness of his host family made a significant impact. 
"My host family, they were just so generous and so altruistic," Garcia said. "They welcomed me, they hosted me, for no reason. They weren't actually paid. They just decided to do it because they wanted to give me that experience, and I will always be so thankful for that."
Though Garcia ended up learning much about American culture, the biggest thing he gained from the exchange experience was what he learned about himself and what really makes him who he is. 
"I actually never planned on writing," Garcia said. "For me, it's not a choice, it's a necessity…It's just a way of communicating. It's a way of understanding yourself. So I actually use it as a way of understanding and comprehending my being, who I am."
All together, America left a footprint in Garcia's life, as did his time at Starr's Mill. Garcia said he would participate in such a program again, and his poetry book is sure to persuade others to perhaps someday participate in an exchange as well. 
Garcia's award-winning poetry book, titled "Peachtree City," will be published in March 2021. It contains around 20-25 different poems divided among four sections that span nearly 50 pages. 
Another one of Garcia's poetry books, however, is available and is titled "Ese Ruido Ya Pajaro." Full of original poems, the collection is also self-illustrated.
Leave a Comment