Economics teacher Mark DeCourcy selected as Teacher of the Year
Starr's Mill has chosen Mark DeCourcy as the 2020-2021 Teacher of the Year. 
DeCourcy teaches AP macroeconomics and economics, and he leads the economics club and Russian club. Outside of school hours, DeCourcy makes sure to spend his time in the great outdoors. He's a big fan of cycling and camping, especially in the fall.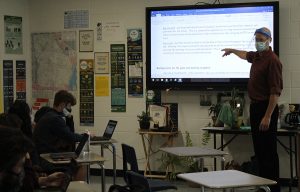 "I sort of fell into [teaching economics]," DeCourcy said. "My student teaching was actually economics, and I was scared to death of it. I would stay up for three hours to put together a lesson for 45 minutes."
Decourcy started his career in Rockdale County, before transferring to Sandy Creek High School. After 14 years there, he came to Starr's Mill, where he has taught the last 13 years. In total, Decourcy has taught 29 years. He teaches seniors exclusively. 
Each year, school faculty nominate teachers for the prestigious award. As the process progresses, faculty continue voting until a single teacher is selected. 
This is the second time he has been selected as Teacher of the Year at a Fayette County school.
"He has a work ethic that is unparalleled," social studies department chair Susan King said. "He goes the extra mile for his students all the time, [and] he has a great way of communicating with people."
DeCourcy is not only a leader at Starr's Mill, but for other teachers across the state, too. He assists the Georgia Council for Economics Education with training other economics teachers. 
"He is an outstanding example of how to do what he does," Principal Allen Leonard said. "[He] does a great job educating our kids."
Through both economics and his wholesome personality, DeCourcy leaves a huge impact on colleagues and students alike.
Leave a Comment