May PBIS winners recognize value of responsibility
PBIS has announced Student of the Month and Staff Member of the Month recipients for the month of May.
English teacher Dr. Bonnie Stanford recognized freshman Amelia Ellison because of the responsibility she has demonstrated in activities beyond the academic coursework.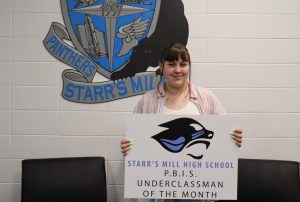 "In addition to her fantastic work in class, Amelia has taken on several activities which come with quite a bit of responsibility including working with the drama department and working on the literary magazine," Stanford said. "She is sweet, smart, and funny, and is a delight to teach!"
Other underclassmen receiving nominations included freshmen Cora Harris, Ali Meier, Caleb Smith, and Hannah McBryde, and sophomore Mai Pamor.
Athletics secretary Stacy Nichols recognized junior Elise Mercure for the responsibility she demonstrated in organizing the recent Powder Puff volleyball match.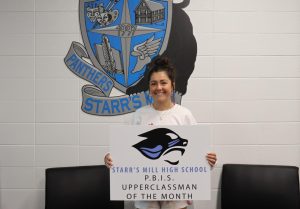 "Elise showed tremendous organization and leadership skills while coordinating all aspects of the Powder Puff volleyball game," Nichols said. "I was thoroughly impressed with the level of responsibility she exhibited while taking on this role."
Other upperclassmen receiving nominations included seniors Hayden Bunn and Nathan Mitchell.
Athletics secretary Stacy Nichols also recognized Kirsten Brooks for her responsible handling of state and AP testing earlier this month.
"Mrs. Brooks has been an invaluable asset to the school this month as she has helped prepare and facilitate all aspects of testing," Nichols said. "She does her job extremely well and always does it with a smile on her face and joy in her heart."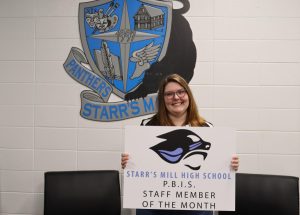 Other teachers receiving nominations for the month of May included science teacher Staci Killingsworth and math teacher Kristin Peavyhouse.
Once a month Andrea Freeman, the assistant principal in charge of PBIS, sends out a link for staff members to nominate students and teachers on their good behavior. The PBIS committee, composed of Freeman, PBIS coach Adriah Williamson, and other faculty and staff, vote on the PBIS staff and students of the month. 
"[PBIS] is a system and a framework that rewards students for positive behavior," Freeman said. "Research tells us that when we work in an environment that rewards positive behavior, rather than focusing on the consequences from negative behavior, then students and staff will internalize those behaviors better and more effectively."
Leave a Comment