Golden Apple – Todd Little
Visual arts teacher Todd Little was chosen for Farmers Insurance Golden Apple recipient for the month of February. For years, Little has taught art classes to a myriad of students with a large spectrum of backgrounds. 
Learning specialist Laura Harbin nominated Little for his excellent handling of the pandemic learning restrictions and his strong relationships with students. A student they both taught struggled with a life-changing issue and working around it was hard, especially with the pandemic already going on.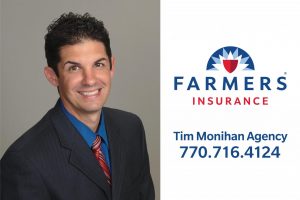 "He was so creative and innovative," Harbin said. "He was so kind and worked one on one with not just [the student], but with every student he teaches." 
Little is a firm believer that students are their harshest critics, and his goal is for them to find joy in the process as well as the result. It took a while for Little himself, even, to find fun in improvising and flexibility of mistakes in a piece. Starting off as a studio major, Little had a "lightbulb moment" when he decided to teach.
"It's creative thinking and problem solving that you need to take away from this class," Little said. 
According to Little, art opens the door for not just creativity, but for math and literature as well.  In class, Little touches on how to proportion and effectively use space and understand allusions of literature, allowing his class to reach farther than just visual arts. 
Little receives $100 from Farmers Insurance to use in his classroom. He plans on using it to frame pieces for display in the school.
Leave a Comment