Golden Apple – Josh Reeves
History teacher Josh Reeves is May's Golden Apple recipient. He was selected by last month's winner Anna Martin. 
"The way he interacts with his students is very professional, and at the same time you can tell that he cares about his students," Martian said. "He also brings humor to his lessons, and I know the kids love it."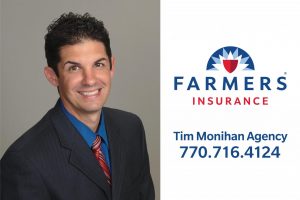 Reeves went to the University of Georgia and earned an undergraduate degree in pre-law and then earned a master's degree in education. He decided to become a teacher instead of a lawyer. 
"You try to build trust with students, and you try to be entertaining to be perfectly honest," Reeves said. "That's the best I can do. I have to teach a lot of stuff and sometimes it's boring to some people. You have to find a way to make it enjoyable."
He first started teaching in 2006 at Morgan County High School outside of Athens. He has been  with Starr's Mill for four years now.  He currently teaches United States history and has previously taught AP US history, IB History of the Americas, and government.
"When I was doing the law thing a lot of the people that I respected the most were teachers and I thought that would be a good thing to be as opposed to a lawyer," Reeves said. 
Reeves enjoys building relationships with students and helping them navigate difficult times in their lives.
"It's nice to be acknowledged by fellow teachers and faculty members as being perceived as doing a good job," Reeves said. "It's nice to get a little validation. It's nice to be up there with the other Golden Apple award winners." 
In addition to teaching, Reeves is also the varsity boys basketball coach. In his free time, he likes to play golf, hangout with his children, play video games, and spend time with his wife watching movies.
Reeves will receive $100 from Farmers Insurance to spend on curriculum or instruction. He will also receive a free large pizza from Buck's Pizza, a gift certificate to Lisa's Creperie in Senoia, a goodie bag from Safelite Auto, and a free haircut from Mane Hair in Peachtree City.
Leave a Comment