College Board to address concerns about new APUSH curriculum this summer
When the College Board introduced a rewritten framework for its Advanced Placement U.S. History course last fall, it sparked a controversy in certain parts of the country, including here in Georgia. Some legislatures are considering defunding the course if the College Board does not revise the curriculum.
In response to these concerns, the College Board is going to take another look at the framework and make revisions to address the rising concerns.
Georgia was not the first state to question the College Board's rewritten curriculum framework. Oklahoma lawmakers ignited the APUSH criticism and were the first to ban the program.  Since then, Texas, Kansas, North Carolina, South Carolina, Colorado, Tennessee — and now Georgia —  have all begun to question the curriculum because of what they say is an emphasis on the more negative aspects of U.S. history and not enough of a focus on "American exceptionalism."
Current APUSH teacher Susan King shared her thoughts on the issue.
"Including the negatives along with the positives makes for a more mature version of history, which I believe is what should be taught," King said. A common complaint with the framework is its inclusion of the gloomier aspects of the nation's past, but King sees this negativity as proof of the U.S.'s progression. "American history is less about glorification and more about the process of change," King said.
The push for the curriculum change arose from two separate issues with the framework.
"There are two different thoughts circulating right now. On one side, they're saying, 'Oh hey, it makes U.S. history negative' while the other is saying, 'There are holes in the framework'," King said.
Earlier this year, Georgia's Senate Resolution 80, which passed in the senate, attempts to combat the newly redesigned curriculum by "demand[ing] state education officials withdraw the current AP U.S. History course and defund it if there aren't major changes."
"No one has told me that we're defunding," King said. 'The changes to the course come out in July. King said she "stays on top of released changes by reading lots of APUSH teacher blogs and frequenting the College Board website."
King is unsure of what these changes will be, but she has a general idea of what they may be. "My suspicion is that they'll be more specific and might throw in some American exceptional people like Thomas Jefferson," King said. Whatever the changes may be, King presumes that the course will not be defunded for next year.
"
Regardless of what may be missing from the AP frameworks, our students will be taught the foundational principles found in our Georgia standards and will be required to demonstrate that knowledge on our state test."
— Richard Woods
Assistant Principal Charlotte Robinson, who taught APUSH for several years, offered some insight on the issue.
"The reason the College Board revised the curriculum is that more and more teachers were asking for the revision," Robinson said. "The previous APUSH course outline was very detailed, and many teachers were finding it more and more difficult to get to the end of the material before the AP exam."
Robinson saw the positive aspects of APUSH firsthand. "I have taught hundreds of students, and I have seen how they benefited from the challenge of this AP course." She said she believes APUSH motivates students to excel in their other studies because of the difficulty of the class and the knowledge it provides. Her desire is to see this course available for years to come to foster a drive for academic excellence.
"My hope is that the politicians who are concerned will take the time to talk to and listen to the experienced educators in their schools who know firsthand about this very critical issue," Robinson said.
The source of the controversy traces back to a former teacher in New Jersey.
"It all began with a retired, blustering teacher picking out what he didn't like about the course," King said, referring to Larry S. Krieger, a history teacher with  more than 40 years of experience. Krieger, who was interviewed extensively by the national media, explained his concerns with the rewritten framework during a conference call with the editors at Newsweek at the beginning of the school year.
"As I read through the document, I saw consistently negative views of American history that highlights oppressors and exploiters," Krieger told them. Newsweek's article states that "Krieger complained that the framework portrays the Founding Fathers as 'bigots' in addition to suggesting that Manifest Destiny was 'built on a belief in white racial superiority and a sense of American cultural superiority rather than the belief that America had a mission to spread democracy and new technology across the continent'."
These issues and potential "holes" in the framework are often counterbalanced by each state's standards. According to the College Board, the changes made to the curriculum last fall "focus on maintaining AP U.S. History's strong alignment with college credit requirements while providing teachers greater flexibility to focus on specific historical topics, events and issues in depth."
Georgia's State School superintendent Richard Woods responded to the debate over these framework holes.
"One important issue to note in Georgia is that all students, including our Advanced Placement students, must take the state end-of-course test in U.S. History," Woods said. "That means, regardless of what may be missing from the AP frameworks, our students will be taught the foundational principles found in our Georgia standards and will be required to demonstrate that knowledge on our state test."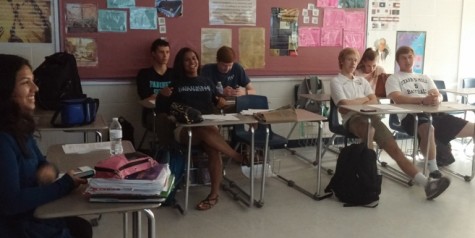 King agrees with the College Board's philosophy of the course's design. "The new curriculum is very broad, and that's how I assumed it was meant to be," King said. "With a broad framework, you can populate it with your state's standards. Therefore, this national test can still work for people in Texas, Georgia, and California, all of whom have a different set of standards."
King also believes that the College Board's new perspective on the APUSH framework creates a more realistic window to America's past.
APUSH student junior Maria Curry agreed with King that history follows a pattern. "As it is often said, throughout the centuries, decades, years, even months, history has shown time and time again to repeat itself, through both the best of times and worst," Curry said. She said that she believes negative aspects of APUSH should be included to make for a better future.
Fellow classmate junior Maddie Beatty also believes that the negatives should be included. "I'm a firm believer in the idea that if we do not learn from the past, we will be doomed to repeat it," she said. "If the government were to gloss over and sugar-coat conflicts, we would be no different than North Korea, which our nation scorns for hiding the truth from its people."
Sophomore Russell Marcum, who received an automatic qualification to take the APUSH course next year, defended the inclusion of the country's rougher patches in the history course.
"I agree that the more negative aspects of American history should be taught as well," Marcum said. "It is important to know the facts of our country's history rather than be denied this knowledge."
King concurs with Marcum and Beatty. "Well, many of the [the founding fathers] owned slaves, but that doesn't mean they didn't also do amazing things," King said. "They didn't wear tights and capes. They weren't superheroes. They were regular people, and I think that gives us more hope since they had flaws, and we do as well. Nothing takes away from them by saying that they had flaws
 "The real American exceptionalism is that we are human," said King, "that we are flawed, but we are able to evolve from defects and make a truly remarkable nation.  Evolution is a continuing process."
According to a recent article in the Atlanta Journal Constitution, the International Baccalaureate and dual-enrollment programs are the College Board's  strongest competition. IB programs can only be taught at approved schools while dual-enrollment is an optional program that public schools can choose to participate in.  Although these alternatives exist, many students still choose to take the College Board's AP classes.
The debate will continue into the summer months.  "The College Board has, however, said they are going to re-define the framework," King said. "We hope it will include more specific examples so this will not happen.  I really don't think we are in danger of being defunded."
According to the Atlanta Journal Constitution, the College Board could face a loss of millions of dollars if APUSH is defunded in Georgia. AP exams, which are administered at the end of the second semester, cost $91 each to take unless a student receives a waiver for financial hardships. The AJC stated that the projected loss in revenue from Georgia alone could amount to near $7.1 million.
Georgia has not yet made a decision on whether or not to take some sort of definitive action, but King sees the APUSH debate as a case where states are taking rash measures too quickly.
"These states and politicians are jumping on a bandwagon," King said. "This is the first time it's been reworked like this. It's not perfect." She is hopeful that the state will "not act too rashly to defund the class so that cooler heads may prevail."
If the College Board doesn't change dramatically enough, Georgia could begin looking at other alternatives, King said.  However, she said it "looks like there has been enough push back that they are trying to work with the states with objections to ease everyone's minds."
In the meantime, teachers will prepare for next year's classes.
"Surely they wouldn't defund," King said "I'd be surprised if they did, and it'd be a dumb move politically. Furthermore, this is one of the major AP classes taught in the country, and it would put our students at a huge disadvantage when applying to colleges outside the state not to have AP U.S. History."