Lights, camera, action
Student filmmakers walk the red carpet at local film festival
Few things are more closely associated with summer than the summer movie season. For a handful of Starr's Mill students, however, sitting in the theater as an audience member was not enough. Instead, these students decided to participate in the inaugural Fayette Youth Film Festival and experience the art of filmmaking firsthand.
This first-annual film festival began as a way to celebrate young, local filmmakers. While the festival accepted films of all topics, students had the option of addressing the festival's theme: "I am." Contestants, all ages 19 or younger, faced the challenge of showing their positive messages about today's youth, including their thoughts on life and its challenges– all in five minutes or less.
All of the proceeds from the festival's ticket sales and submission fees went straight to the I Am Foundation, the inspiration for this year's theme. This organization gives out a scholarship each year in memory of Julia Tarter, a young girl from Peachtree City who passed away in a car accident in 2013.
For junior Jordan Bobbitt, entering the festival was a no-brainer. "I really have a passion for acting. It's what I love to do," Bobbitt said.

"
I really have a passion for acting. It's what I love to do."
— Jordan Bobbitt
She heard about the festival through her mother, a writer for the "Hollywood Mom Blog," who was offered a judging position at the festival in May. Immediately, Bobbitt knew she needed to contact her friend, junior Caitlyn Patterson. "I knew Cate was really into filmmaking, so we decided to team up together."
Patterson's film, "Broken," starred Bobbitt in the leading role of a young girl who is bullied and eventually driven to suicide. "It's a very heavy movie," Bobbitt said, "but [bullying] is a problem that many people face. Cate and I both have our own bullying stories. It can happen to anyone."
The theme "I am" inspired "Broken." "The main idea of the movie," Bobbitt said, "is that you are so much more than what other people say you are." 
Juniors Jillian Ruvalcaba and Clare Busey were similarly inspired by the theme for their film, "Going Off the Edge." The story follows a young girl, played by junior Avery Grillo, as she faces depression and loss. "In the end, she realizes that everything will be okay," director Ruvalcaba said. "I was really hooked on the theme, 'I am,' and I turned it into 'I am worth it.'"
Seniors Davis Murphy and Evan Johnson, however, decided on a lighter take for their film, "The Girl," about a boy and his plans to win over his crush. "The movie was originally supposed to end with me crying in a bathroom," lead actor Johnson said, "but Davis' mom wanted us to change it."
This last-minute change may have been what led the friends to winning an award. "A lot of the videos were more sad and serious," Johnson said, "so it seemed like we were at a disadvantage for our division award. But from the way the audience reacted to our movie, I felt really confident that we had won People's Choice."
Though both considered the award an honor, the experience was less than picture-perfect. "The Girl" had been neck-and-neck with another film, a Lego stop-motion movie called "Land Wars." The vote, counted electronically using an app, had come down to a difference of one audience member's ballot.
The announcement of the People's Choice Award– the last award of the night– seemed to be going according to plan, and it wasn't until later that Murphy noticed there had been a small mishap. "After everything was over, we finally opened up the envelope they had given us," Murphy said. "The certificate said 'Land Wars,' and it was scratched out with 'The Girl' written on top."
Murphy and Johnson are unsure of what happened to cause the confusion, but suspect that "Land Wars" led early in the evening, and "The Girl" got the majority later on in the night. Both agree that the film was a worthy opponent. "'Land Wars' was really well made," Johnson said, "and I'm glad that it got an honorable mention."
Prizes like Murphy's People's Choice Award, which included a $250 scholarship, were given out at the festival, which took place on July 31 in the Willie Duke Auditorium. Other awards included Best Animation, Best Actor and Achievement in Writing, as well as cash prizes and opportunities like the chance to appear in a feature film, intern with a local filmmaker, or even have their film screened at the prestigious Atlanta Film Festival.
Bobbitt won for overall best actor. She remembers the moment when she received her certificate. "I was so honored and excited," she said.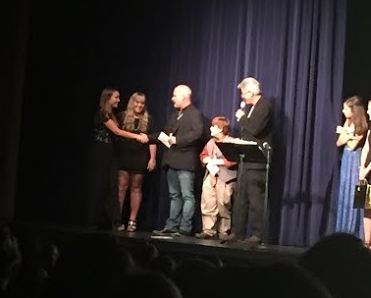 While the award may have been a highlight, she insists the entire festival was just as rewarding. "The festival was thrilling. It was absolutely magical for me," Bobbitt said. Though she is an experienced actress who has starred in several local independent films, this was her first time attending a film festival.
"Going Off the Edge" was given an honorable mention and screened before the award ceremony began. "We weren't considered for an official award, which was a little disappointing," Ruvalcaba said, "but it was my first time at a film festival, and there's always next year."
It's no surprise that the festival became a memorable experience for the attendees. In addition to being considered for awards, the contestants were able to participate in a discussion about filmmaking and working in the film industry with the festival's VIP guests, including professionals from The Walking Dead, Pinewood Studios, Tyler Perry Studios, John Green's Paper Towns, and Imba Means Sing.
"A lot of the things that were said I've heard before," Bobbitt commented, "because my dad works in the industry." Her father, Russell Bobbitt, has been a "Propmaster" for Marvel Studios for the past eight years. "But for the other kids, I'm sure it was great to hear this new perspective on the industry," Bobbitt said. "They told us that it really is possible to make it in the film industry."
Johnson agreed with Bobbitt. "The discussion made me more interested in the film industry," he said. "I was really surprised with the kind of professionals who were there. They aren't names you've heard of, but when they described their jobs we realized they were all really important people." The professionals in attendance ranged from screenwriters and stunt coordinators to casting directors and YouTube personalities.
Ruvalcaba recalls a conversation she had during the festival with Michael Lucker, a Disney screenwriter who worked on movies like "Mulan 2" and "Kronk's New Groove." "I was nervous, but my mom pushed me to talk to him," she said. "He was really nice and friendly, and told me to email him a copy of my movie for feedback."
Beyond the ceremony, awards and prizes, the students enjoyed the process of filming itself— despite the challenges it may have entailed.
For the cast of "The Girl," these difficulties included reshooting some unusable footage. "Filming would have just taken us a day or two," Johnson said, "but a lot of the original footage was too dark, so we had to go back and add a couple days."
Both Johnson and Murphy, however, agree that their film benefited from the delays. "It was exactly what we needed," Murphy, the producer, said.
In a sense, the first run through was like a rehearsal for the boys. "The first time, everything was just made up off the top of our heads," Johnson said. "The second time, we actually knew what we were doing."
This is a problem the two friends have become accustomed to. "None of our videos have ever had a script," Johnson said, referring to their many school video projects from past years, including a 30-minute epic that became legend among the 2014-2015 AP U.S. History students.
Though APUSH teacher Susan King couldn't find the time to show it in class, senior Regan Romuno watched the video with friends outside of class. "It was interesting, to say the least," Romuno said, "and all the APUSH classes made references to it the entire year." 
Just as they had during past projects, Johnson and Murphy made use of various locations during the filming in early June. While most of the film took place in Murphy's mother's bathroom—"about four of the five minutes," Johnson said—they used the school as a backdrop as well. "Mr. Leonard was really nice about letting us film at Starr's Mill," Murphy said.
Patterson and Bobbitt made similar use of the campus, as well as the Chimneys neighborhood and a friend's house. The climax of the movie, a scene in which Bobbitt's character commits suicide, took place in bathtub. "The scene was really difficult for me," Bobbitt said. "As an actor, you have to think, 'I'm depressed, I'm suicidal, this is it.' It was a new experience, and it really freaked me out."
Luckily, producer Patterson was able to make the scene a little easier for the both of them. "Caitlyn poured some milk into the tub to make the water more frothy, so you couldn't see my face underwater," Bobbitt recalls.
The crew of "Broken" faced their biggest challenges, however, in timing. When they decided to start filming, they had only a week left before the July 11 submission deadline. "We had a big problem with casting because we filmed so fast," Bobbitt said. The crew also didn't have time to write a complete script, so some of the dialogue had to be ad-libbed.
Ruvalcaba agrees that time constraints were a big issue. "It was only two or three weeks before the deadline that I really began considering entering," she said. "We shot everything in two days, and I spent about a day and a half editing.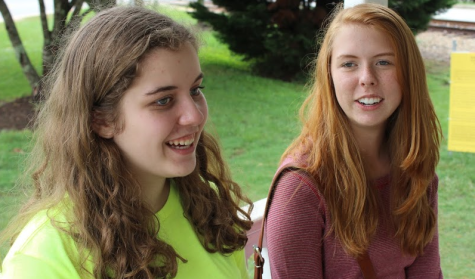 This quick process left little time for memorizing lines. "I told Avery not to try and memorize the script," Ruvalcaba said. Instead, the group decided to have some of the dialogue ad-libbed as well as hold the script out of frame in some shots.
Despite all the difficulties they had to face, these young filmmakers seem to be hungry for more. "I'm definitely committed to acting," Bobbitt said about her future. "I have an agent and manager helping me right now. It's something I want to follow through with, at least through high school and college."
As for the festival, Bobbitt is eager to start filming again. "Cate and I are planning to make more short films, for sure," she said.
Johnson and Murphy share Bobbitt's excitement. "We're definitely going to enter the festival again next year," Johnson said. "I'm not going to promise a script this time, though. We just prefer being ourselves and being funny on the spot."