Panther athletics make school history with 2015 Director's Cup win
For several years, the Director's Cup was just slightly out of reach for Starr's Mill. However, the 2014-15 athletic season ended with gold, pulling the Mill out of its streak of runner-up finishes. "We have had several near misses, but this is our first win," Athletic Coordinator Chad Phillips said.
The Georgia Athletic Directors Association recognizes success and superior performance in high school athletics. This organization, partnered with Regions Financial Corporation, presents the GADA Regions Director's Cup to schools that demonstrate overall athletic excellence throughout a single school year.
For the first time in Panther history, Starr's Mill had the honor to bring home the first-place trophy in recognition of its outstanding 2014-15 sports year.
"Having never won the overall cup, we certainly did not expect to win it," Principal Allen Leonard said. Leonard was the Athletic Director for two years before assuming the position as principal for the 2015-16 school year. The year prior to its victory, Starr's Mill placed second for the cup, finishing behind its cross-town rival McIntosh.
Leonard and Phillips were determined to make it to the top after their near-win experience. "It is one of our goals every year to do as well in as many sports as possible," Leonard said. "This was an exceptional year for us."
The scoring for the Director's Cup centers around a school's success in various sports. Each high school selects its top eight sports for each gender, choosing from the 25 accepted GHSA sports.
Schools are rewarded points based on the performance of their eight selected athletic teams. Winning the state championship equates to 100 points for that team followed by 90 points for second.
Non-bracketed sports such as swimming and golf receive a minimum of 10 points with two to five additional points for each team's advancement in the season. Scoring for bracketed sports such as football and basketball is based on how far each team made it in the regular season and playoffs.
"You get higher points for each round your team advances in the playoffs," Phillips said. Cups are given for each GHSA classification from a school size grouped in A to AAAAAA. Starr's Mill won out of the 84 AAAAA high schools.
Both the boys and girls athletic departments performed better overall than in previous years, accumulating 1188.5 out of the potential 1600 points. The Mill also walked away with an overall win in the separate gender categories. "This year we finished as the top overall girls program and second for the boys," Leonard said.
According to Leonard, Starr's Mill had two state champion teams, girls' soccer and cheerleading, three State runner up teams, both tennis teams and girls' cross-country, six individual event state champions in track and swimming combined and 19 other teams that advanced into the state playoffs.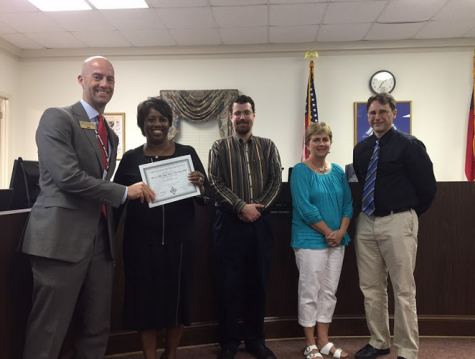 "This type of success takes the efforts of everyone in the school regardless of whether or not they ever step on the field," Leonard said. "Our players, coaches, fans, teachers, parents and community can all share in this success."
Phillips also said that this victory for Starr's Mill sports required a joint-effort and long hours of demanding work. "Winning the Director's Cup confirms all the effort all of our coaches, teachers, administrators, booster clubs, community and other volunteers put into helping us have one of the premier high schools in the state," Phillips said.
The support of the Mill's administration is a large part for the success of the athletic department. With Leonard running the show this school year, Assistant Principal Sandy Martin has taken on the duty of athletic director, but she is no stranger to the world of competition and sports.
"I feel as if I am coming home," Martin said. She began playing various sports at the age of three and never looked back, continuing to play throughout her time at Cedarville University in Ohio. She lettered in tennis all four years in addition to both basketball and volleyball for two years each.
Martin said that she began coaching shortly after graduating from college and has experience coaching from the recreational level up to college athletics. She coached tennis and basketball at the University of Daytona and basketball, tennis and volleyball at Kenyon College. Prior to becoming an administrator, Martin taught math, science, and health and physical education.
Martin hopes to use her expansive knowledge and experience in athletics to embrace her new position with her primary focus being set on the 2015-16 GADA Regions Director's Cup.
"Our goal is to be to have back-to-back wins through the continued success of our overall programs," Martin said. "Our strength is in the balance we have across all our athletic programs." She plans on maintaining this success among the school's teams and has her sights on bigger achievements for this year.
"My goal is to build a strong team focus that will not only keep the Director's Cup at SMHS but also to have both the girls and boys to come in first place," Martin said. She said that "Starr's Mill has a wonderful tradition of excellence and success," and she plans on "maintaining those traditions as we demand excellence of ourselves and encourage excellence in others at Starr's Mill."
Although there is much on her plate in the athletics department, Martin will not be facing these demanding goals alone. She has the assistance of Phillips, who is the athletic coordinator for the 2015-16 year. He said he looks forward to another successful year with Martin on the team.
No matter what the end result of the 2015-16 athletic season brings for Starr's Mill, Phillips believes that there is much to be proud of as it is. "I think, in the end, this affirms the fact that excellence does matter here, and this school is full of terrific, disciplined, hard working, goal-oriented young people," he said.