Previous assistant principal is Starr's Mill's new principal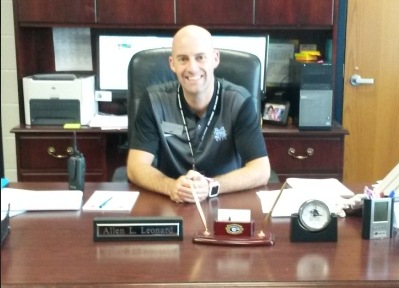 "I am very excited about taking on this position at Starr's Mill," Allen Leonard said. "It might be a little scary, but I am looking forward to the experience."
Leonard began his journey as new principal of Starr's Mill on Aug. 6. Moving from an assistant principal position, he replaced Audrey Toney.
Toney accepted a job offer at the Fayette County Board of Education Central Office where she is now the Director of Student Services, leaving the position she held for the past 10 years.
Leonard went through a long process of interviews to apply for this job. "I was approved at a board meeting back in May," Leonard said. "That is when I knew I had received the position."
Leonard tries to learn the ropes of how to be an excellent principal. He wants to stay "one step ahead of the game" so he can be more prepared for questions he may be asked. "Everyday I get asked a question I didn't know I was supposed to have the answer to,"  Leonard said.
Leonard wants to see students succeed and achieve their goals in life. "My number one priority is that all the seniors graduate and become successful in their life," Leonard said. "My biggest achievement is when students that I have had in previous years friend me on Facebook and they thank me for helping them go through school."
He hopes that the students at the Mill are successful academically and try to continually improve their grades. "High standards and meeting those standards are believed to be the biggest challenge for students," Leonard said. "There is a quote by John Wooden, 'Discipline yourself so others don't have to.' I often tell this to students as advice."
Leonard's move into the principal position triggered several changes in administration. Assistant Principal Sandy Martin took over the role of Athletic Director, and Assistant Principal Charlotte Robinson assumed the role of Registrar. The county hired Deb Troutman to fill Robinson's position as Assessment Coordinator, and the county gave the school another allotment for an administrator. This new position, filled by David McBride, oversees Response-to-Intervention/504 student services.
Although drastic change has taken place in the administration at Starr's Mill, Leonard and the assistant principals are taking a step in the right direction approaching this school year.  "I am thrilled to work with the students, and am looking forward to the year to come," Leonard said.