Growth of the game, one kick of the ball at a time
Atlanta United showcases the growth of soccer in the United States
"The team brings a different type of culture to the city," junior Starr's Mill varsity defender Leo Samba said. "You can tell from the home games Atlanta has a passion for the game and we've been waiting for something like this."
"
[W]e've been waiting for something like this."
— junior Leo Samba
The game of soccer has been growing in the United States. The influence from the game is spreading throughout a country which once had little affiliation with the game, and the past few years have been great for the sport. Major League Soccer was created in 1993 with ten teams and has now expanded to 22 teams across two conferences. The league has made significant strides while still maintaining its sense of identity in the U. S.
Atlanta United Football Club and Minnesota United FC are the newest expansion teams which were introduced for the 2017 MLS season. Atlanta United was added to the Eastern Conference, and Minnesota United was added to the Western Conference. The two teams have had very different starts to this year's campaign with Atlanta United thrashing Minnesota United 6-1 in the second game of the season.  
Soccer fans from Atlanta now have a legitimate connection to an entity in the game. Many fans in the U.S. watch leagues based in Europe such as the English Premier League, La Liga, Bundesliga, and the Champions League. However, it may be difficult to find an emotional connection to those clubs over in Europe.
"Your team is your team, but when that team is across the Atlantic Ocean, it makes it a little different," boys' junior varsity soccer coach Aaron Buck said. "If I could find tickets here, I could take my kids to a game whereas I couldn't really do that with a team based in Europe. Over the years it will create that special connection like many of us have with the Atlanta Falcons or the Braves."
Many people never believed a MLS team would ever make its way to Atlanta, yet Atlanta United sold out both its very first home game against the New York Red Bulls and its second home game against Chicago Fire. The inaugural game attracted 55,297 fans, the fourth highest in the world that weekend. These numbers show the level of support Atlanta has for this brand new team.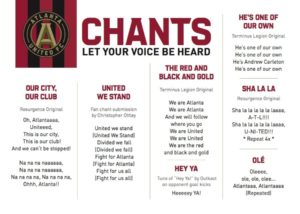 "This team is very special and will become a fabric of our community," Buck said.
Atlanta United recruited a world class manager, Gerardo Martino. Martino managed FC Barcelona and the Argentina National and now showcases his knowledge and experience in the MLS. With his quality as a manager he was able to bring in the likes of Miguel Almiron and Josef Martinez, two young players with plenty of potential. Atlanta United made it a point to bring in young players as opposed to old and experienced players who are looking for a retirement check.
"The team is young, and they have a world class coach," girls' varsity coach John Bowen said. "All signs point to greatness."
The technical director, Carlos Bocanegra, has also been a crucial factor to the development of the club. With his use of club and international experience as a player, he went out and signed young talents, using Martino as a major selling point. The way Atlanta United built itself from the ground up demonstrates experience and class off the field.
"One of the biggest differences in the game compared to the past is just having professional teams available locally," Bowen said. "Someone in high school can look and see a professional team close to them which can offer a professional outlet for aspiring players. Those opportunities weren't there when I was in high school."
On a much smaller scale, Peachtree City is home to Premiere Development League team Peachtree City MOBA. While it is not a top tier club, it allows members of the local community to feel a connection to a club. MOBA, and other PDL teams like it, also allow players to gain quality playing experience to possibly further their careers. The setup of professional and semi-professional clubs and their youth academies are starting to mirror those in Europe, which is something U.S. soccer has been striving to achieve for many years.
"There is a larger fan base that knows the game and can appreciate the skills involved and not consider it boring," boys' varsity coach Mike Hanie said. "There are also more coaches that have played at the high levels."
Players at the amateur level have developed physically, tactically and technically. The game in the U.S. has made tremendous strides in recent years resulting in a new generation of fans and players giving the game more praise and attention.
Atlanta United currently sits in fourth place in the Eastern Conference with 11 points coming from three wins, two draws, and two losses. Their next home game is on April 30 against DC United at Bobby Dodd stadium in Atlanta, Ga.